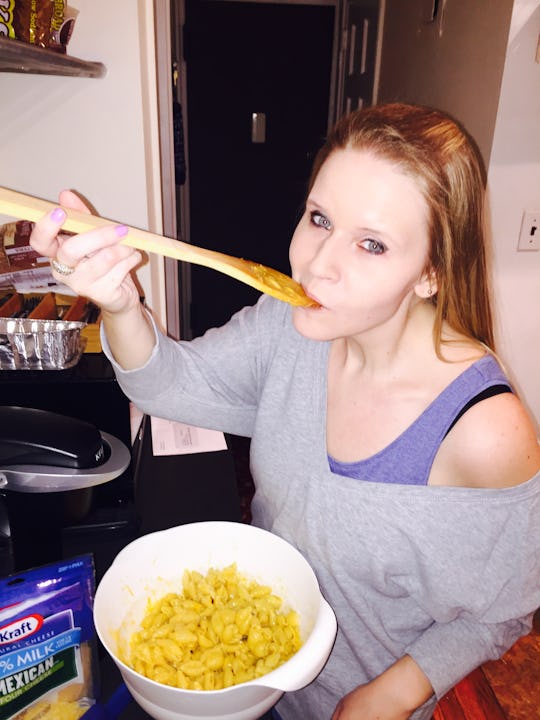 Courtesy of Kelly Schremph
I Tried Making 'Bachelor' Corinne's Cheese Pasta
Throughout every season of The Bachelor, there's always one contestant who manages to set themselves apart from the rest, for better or for worse. And when it comes to Nick Viall's season, there's no arguing that the honor goes to Corinne Olympios, who has quickly become Season 21's most unforgettable female suitor. But while she possesses many distinguishing characteristics, the one that's garnered most of the public's attention is the fact that she — a 24-year-old woman — still has a nanny, who takes care of her in almost every sense of the word. That also includes making her "cheese pasta." So, for fun, I decided to try making Corinne's cheese pasta from The Bachelor and the result was, well, pretty cheesy.
During last week's episode, Corinne had mentioned how heavily she depends upon Raquel. Evidently, her responsibilities vary from doing her laundry to even cleaning her spoons. However, one of Corinne's favorite tasks for her nanny seems to be the way she makes her "cheese pasta" just the way she likes it. But what exactly is this meal that she speaks of so highly? Is it an unusual way to say macaroni and cheese or something else entirely? Naturally, I had to find out, which is why I was so pleased to see that Corinne had divulged the recipe to Us Weekly during a recent interview. So it was time to put my culinary skills to the test.
"Cheese pasta is my number-one comfort food," Corinne told the outlet. "I eat it when I'm sad or when I'm sick or just want to cheat my diet a bit. It's my weakness." And thankfully, she blessed us with the ingredients and instructions themselves, so we too can indulge in this Bachelor contestant's favorite treat — though if you thought this was going to be a complicated concoction, think again.
The instructions she gave Us can be found below:
1. Boil pasta for 10 minutes (add some salt to water).
2. Strain out all water.
3. Add pasta back to pot, keeping it on low heat.
4. Add a lot of shredded cheese.
5. Mix until all the cheese melts.
Side note: no salt with cheese.
Now, as you may have noticed, this recipe didn't come with any kind of measurements for anything, so I was forced to resort mostly to guesswork when it came to how much pasta to use and how much cheese to add. But really, when in doubt, my motto is to always add more cheese. I know the saying is "less is more," but in the face of all cheese decisions, more cheese is definitely the way to go.
So I proceeded to boil the entire box of pasta (I mean, go big or go home, right?) and once it came to a boil and was drained, I then poured two full bags of cheese into the bowl and stirred. I'm not totally sure how much "a lot" is supposed to measure out to, but this seemed like an appropriate amount to start out with. (Please note: I chose to go with a combination of four-cheese and sharp cheddar, but I have feeling any shredded cheese preference you may have will do just fine.)
And just like that, viola! The cheese pasta was prepared and ready to be eaten!
So what's the verdict, you may ask? Obviously, when you're dealing with things like pasta and cheese, it's never going to taste bad, but I'm not going to lie — the end result was a little underwhelming, especially since there were no extra spices or anything added into it. It was quite literally just pasta covered in melted cheese. Without the addition of butter or milk, it was also pretty dry. So while I still enjoyed my creation (because of course I was going to eat it), I could definitely see some room for improvement.
Not to mention that the clean up was kind of a pain since there was melted cheese caked onto everything and, alas, no Raquel in sight to help me. But it was still an interesting experiment nonetheless and gave me a firsthand account of Corinne's tastes. Now if you'll excuse me, I have some leftovers to heat up.