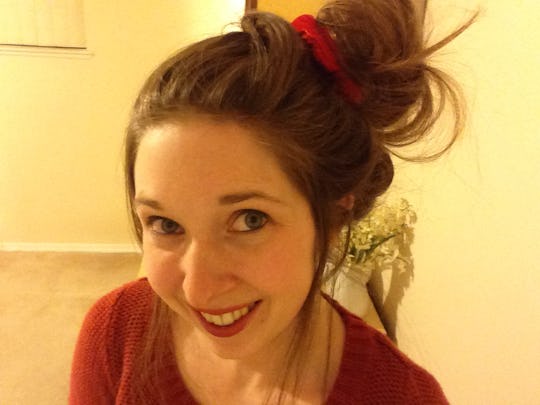 Courtesy of Gemma Hartley
I Tried The Most Iconic '90s Hairstyles & Here's What Happened
As an adult, I am completely and totally clueless when it comes to doing my hair. I look at Pinterest hair tutorials, get really amped up, and then fail miserably when I try to recreate the look. I either wear my hair down or in a ponytail, because these are the only two styles I am fully capable of pulling off. Unless of course, we're talking about '90s hairstyles. I actually had a pretty extensive knowledge of how to do hair (both my own and others) many years ago, when I had endless free time and no children. That time was the '90s. I was very well-versed in hair crimping, and spent long nights putting my hair into tiny braids for that ultra wavy Britney Spears "(You Drive Me) Crazy" look. Messy scrunchie bun? Can do. The Kelly Kapowski blowout? Oh, you know it. The '90s was a time when my hair game shined.
These days, I don't have much time for anything other than my standard pony. Life with three kids under the ages of 5 has been rough on a lot of things, most notably: my hair. Even though the '90s have long since passed us, I still think back on that time period as some of the best when it came to hairstyles and trends. I miss the '90s so much, in fact, that I was willing to go back in time to recreate the best looks.
The Experiment
I decided to bring back the hairstyles of the '90s the way Justin Timberlake brings back sexy: boldy and without shame. I bought some tiny little rubber band hair ties and a multipack of brightly hued velvet scrunchies, and I was ready. I reverted to my favorite '90s hairstyles for a whole week and got back to my roots (get it?), to see just how people reacted to the sometimes questionable but always amazing hair game of the best decade around.
Day 1: Go Big Or Go Home
I decided to ease into my week of '90s hair by going with an oldie but goodie that isn't immediately recognizable as say, the No Doubt-era knotted hair (that, my friends, required some working up to). I went for the big '90s blowout worn by such icons as the flawless Cindy Crawford or renowned Kelly Kapowski. I was all about big hair in the '90s because I have a thick mane of hair that holds some serious volume. Also, because a hairstyle that requires little more than holding your head upside down and spraying a bunch of hairspray on your roots is exactly the sort of skill level I have when it comes to hairstyling.
To be honest, I actually felt pretty damn good about myself when I rocked this look. During a Skype session with a friend, she told me I looked like I should be in one of those old Herbal Essence commercials, which is about as '90s perfect as it gets. My husband knew something was different, and he liked it, though he couldn't quite figure it out. Rocking the hairstyle of '90s supermodels was a refreshing break from the dull ponytail I normally wear, and I might start trying to bring this hairstyle back with a vengeance. I was born for '90s blowouts.
Day 2: The Scrunchie Braid
On day two, I decided to break into my package of velvet scrunchies, which were every bit as wonderful and nostalgic as I'd hoped. The only thing I truly lamented was the fact that I was unable to find metallic leopard print scrunchies, which were obviously my scrunchie of choice in the '90s. Oh, metallic leopard print, you were like a shooting star: shining so bright but passing so quickly into oblivion. I'll miss you always.
As I practice this hairstyle out, I realized another 90s skill I was very adept at: hair braiding. Chunky braids, little braids, bracelet braiding — I could do it all. The whole fishtail and Elsa-style braids of today's Pinterest tutorials, however, are totally beyond me. Simple braids for life. Again, I didn't hate this look. In fact, it brought back fond memories. I feel like this was the look I'd rock when I wanted to feel cool but casual, perhaps while playing a game of Dream Phone. Plus, I felt like if it wasn't for the blazing blue scrunchie, I could have totally passed for a normal, functioning adult. Actually, I see quite a few other women with kids rocking scrunchies at school drop off, so I didn't even feel that out of place.
But things were about to take a turn for the slightly more extreme.
Day 3: Crimping
Unfortunately, I got rid of my hair crimper sometime in the late 2000s. May it rest in peace, since I sure as hell know no one is using it for its god-intended purpose in this day and age. Hair crimping was the height of late-90s cool, and I was ALL. ABOUT. CRIMPING. However, it took some saving chore money to buy myself the hair crimper of my dreams, so in the meantime I got resourceful, braiding small sections of my hair and leaving them in overnight. Which, sans hair crimper, is exactly what I did for this experiment.
As my husband rocked our sleeping baby, I sat in front of my mirror braiding section and section of my hair, until every strand had been accounted for. It was much more time-consuming and difficult than I remembered. How did I ever spend this much time doing my hair? How did I ever sleep with these damn things on my head? Why did I put myself through so much discomfort for not-so-good looking crimped hair?
My husband however, was oddly pleased with my look, noting in the morning that "my hair looked so crinkly." He kept wanting to touch it, because it was so delightfully fluffy and my kids took to doing the same. I felt really weird about hanging out with my regular group of friends after school drop-off, but they didn't seem to notice. Or maybe they thought that's just how my hair normally looks, and that I spend a great deal of time styling this unmanageable mane every day to look like normal. Then I got home and realized that it wasn't even crimped anymore. As soon as I stepped outside it fell flat as could be, so even though I saved myself some school drop-off embarrassment, I also wasted a lot of precious time braiding my hair for nothing.
Day 4: The Original Messy Bun
The messy bun is something I kind of, sort of get right from time to time, but it never looks as Pinterest-worthy as literally every other woman I ever see rocking a messy bun. The era of the '90s messy bun was a simpler time than the teased out messy buns of 2016. It was truly messy, gloriously messy, held together by one of those delightful velvet scrunchies and, of course, finished with two chunks of hair strategically framing your face.
I was finding there was something simply meant-to-be happening between me and this whole '90s hair experiment. Some people lament being born in the wrong era, but I think I was born right where I belonged, with my adolescence shaped by the glory of the '90s ... if only '90s hair could have lasted forever. I felt like the messy '90s bun should be my daily look. It's functional. It's fabulous. It makes me feel a bit like a disheveled Cher Horowitz. What's not to love?
Day 5: Weaving
If there was only one '90s style that I secretly wish I could bring back, it would probably be the weird hair-weaving trend that I was so fond of during my pubescent summer camp years. Sectioning off your hair with little rubber bands and then re-sectioning and tying those pieces together until you have this woven map '90s glory atop your dome? It's perfection. And I used to be really, really good at it.
Turns out, my lack of practice over these past couple decades has made me a bit rusty. I was seriously disappointed with how messy my woven hair looked, and also, slightly concerned with how emotionally invested I was in this particular hairstyle. I also felt incredibly self-conscious when I went out in public sporting this do. Given the strange looks I got in the grocery store, perhaps this trend died for a reason. Or maybe they were all gawking at how majestic I looked. Who am I to know?
Day 6: The '90s Power Pony
I decided to go back to the more traditional '90s style of big scrunchie hair on day six. I went for the super high, cheerleader-style pony. I was feeling OK about my look, that is of course, until someone commented on it. Another mom noted that my hair "looked good up," which was an innocent enough comment, but it reminded me of my hairstyle out in public for the first time.
It's one thing to wear a bright pink scrunchie and forget that it's there, but when someone brings attention to it in a group, you're suddenly that mom who wears a scrunchie. And I was embarrassed. Plus, I didn't really know if she was complimenting me or calling out that I so rarely do my hair that even a small change like a ponytail was a big improvement. Also, I'm not sure what "looks good up" means in the mom-sphere. Like, did it make me seem older? Wiser? Did it make me come off more quirky and fun? Does it make me look desperate for my teenage glory days?
Day 7: A Different Kind Of Top Knot
Courtesy of Gemma Hartley
Remember when you had a pixie cut, but you still wanted a fancy punk-rock updo from time to time? That was when you went for the knotted hairstyle made famous by Gwen Stefani in her glorious '90s No Doubt years. Of course, long-haired girls were game for this style as well, but instead of simply tying your hair into knots, you twisted it until you had sections of weird, mangled, ropey knots all over your head. It was great for that punk rock concert your parents didn't want you go to, or for when you wanted to feel like the ultimate mall rat.
But on me, in 2016, was a mistake. It was a huge mistake. I knew it as soon as I started, but still I continued on. Then I went out into the goddamn world, looking like an absolute psychopath. My children kept asking why I looked so weird. I went to a hipster grocery store, where I thought I could hide my weirdness, but even there I was stared at relentlessly. Part of me wanted to say, "who the hell cares how I wear my hair, people?" Then another part of me caught a glimpse of myself in the freezer aisle and understood that staring was probably the most polite and safe way to deal with me. I quickly finished my shopping, went home to take out my knotted hair, and vowed never, ever again to try this style again.
Was '90s Hair As Glorious As I Remember It?
Even though I still feel a bit of fondness towards some of the big, easy '90s hairstyles, I was happy to put them to rest at the end of the week. I was ready for my hair to be normal and new millennium-approved once more, not drawing attention with brightly colored scrunchies or hairstyles that resemble the sort of updo my kids would give me while playing salon.
And those little itty-bitty hairbands? Those can go back to hell, where they belong. I'm pretty sure I have some bald patches from how much hair those things ripped out. RIP 90s hair - both literally and figuratively.