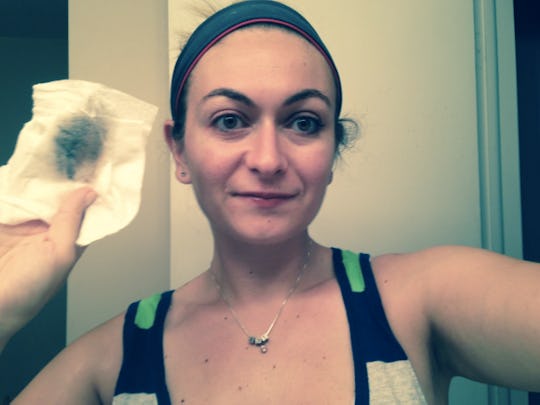 I Used Baby Skincare Products For A Week, & This Is What Happened
Last week I realized we were down to our last two diapers, so I ran to the store before we were forced to become an elimination-communication family. When I was grabbing diapers, I remembered I was dangerously close to running out of shampoo and my twin 2 year olds were getting low on lotion, so I tossed those into the cart as well. Then, it occurred to me: Why don't I use the same bath products as the kids?
I spend a small fortune on cleansers, lotions, and potions for my own sensitive skin, but since baby bath products are always lauded for their ability to be gentle on the delicate skin of a newborn, surely they would work for me as well. Newborn skin is always glowing, so perhaps this way mine would, too. And it would be much easier to keep track of when I need to replenish my stores.
The Experiment
Before I became a parent, I could easily spend an hour strolling through Target grabbing the items on my list and then some. But with two toddlers to chase after these days, it's hard to find the time to stock up on the essentials, nevermind taking the time to browse the accessories section. I decided to swap out my own face wash, face lotion, makeup remover, shampoo, conditioner, dry shampoo, styling cream, and body lotion with baby versions for a week to see if they would be a secret fountain of youth and a way to streamline my shopping list.
Here's how it went.
The Aftermath Of A Week Of Baby Shampoo And Conditioner
My hair is super thick and dry, so I only wash it twice a week and use dry shampoo in between washings. When I do suds up, I use Head and Shoulders shampoo and Yes to Carrots Scalp Relief conditioner to help my control my psoriasis. But I swapped out my usual products for Dial's Peachy Clean Body + Hair Wash. First, the smell was incredible. I always love burying my nose in my kids' heads after their baths, but it was even better to have this scent in my nose all week long. That being said, it looked like I had a haystack on my head, that's how dry my hair was. By the end of the week, if I gathered my hair into a ponytail and touched the ends, it felt like a grade-school paintbrush, all stiff and hard. And that thing about it being tears-free? LIES.
Head & Shoulders Classic Clean Shampoo,$11, Amazon; Yes To Carrots Scalp Relief Conditioner, $14, Amazon; Dial Kids Body+Hair Wash in Peachy Clean (2-pack), $16, Amazon
I swapped out my Aveda Styling Cream for Johnson & Johnson's Leave-In Detangler. It didn't do much to tamp down the volume of my hair the way the Aveda does, and while it smelled great, it left my hair feeling a bit sticky all week long. However, it did make combing out my damp hair much easier, so I may use it the next time we head to the pool and I want to comb out my wet hair before going home to shower.
Aveda Smooth Infusion Styling Creme, $26, Nordstrom; Johnson's No More Tangles Conditioner, $4, Amazon
Baby Powder And Dry Shampoo Are Not The Same
On days in between washings when I work up a sweat, I use dry shampoo to banish grease. But since I wanted to stay loyal to the experiment, when I got home from Zumba on the morning of day two, I reached for the baby powder instead. I knew it was good for absorbing moisture and I vaguely recalled reading online this was a thing, so I went for it. I used the Equate brand Mild Baby Powder from Walmart, because I'm #thrifty.
I've made some bad beauty decisions in life, including a solid three-month stint in high school where I wore glitter as blush, but using baby powder as dry shampoo ranks second on the list of My Worst Beauty Ideas Ever. Maybe I used too much powder, but it clung to my scalp no matter how long I brushed it. Luckily, I looked like I was part of the grey hair trend that's currently having a moment. But it felt dry, and the next day, my scalp was super flaky and itchy. I tried it again on day five after a long run. This time, I used less powder but my hair still felt oily and dry afterwards. Me no likey.
Baby Lotion As Adult Lotion: Would It Work?
Although I own several tubs and tubes of body lotion, I rarely take the time to actually apply them. After a bath I might lather up, but when I'm going from shower back to momming I don't typically take the time to moisturize my body, and I should. This week was great in that it helped me to realize I do have time to take 90 seconds and do this for myself. I used Target's Up and Up Nighttime Calming Baby Lotion every night, and maybe it was the fact that I was pampering myself or maybe the lavender scent really does help you calm down, but whatever the reason, I had the best week of sleep I've had since before the kids were born.
Smooth skin and feeling rested? I'm sold.
Nighttime Calming Baby Lotion, $4, Target
Um… Why Is My Face Burning?
Because I prefer a foaming cleanser for my face (Ole Henriksen's foaming cleanser FTW!), this week I used Johnson's Naturals Foaming Head-to-Toe Cleanser. I was surprised by how well the baby wash worked. Honestly, I expected it to be drying, but my skin wasn't tight after washing and felt residue-free.
Ole Henriksen Foaming Cleanser, $30, Sephora; Johnson's Natural Head-to-Toe Body Wash, $8, Amazon
Using baby lotion on my face was another story. I switched my Ole Henriksen's Sheer Transformation in favor of Aveeno Baby Lotion. Remember when I said using dry shampoo was my second greatest beauty mistake to date? Well, putting this baby lotion on my face was the first. The product is heavy, which I expected, so I wasn't too surprised to see a few uncharacteristic whiteheads pop up on my chin and nose throughout the week.
Ole Henriksen Sheer Transformation Perfecting Moisturizer, $38, Sephora; Aveeno Baby Daily Moisture Lotion, $9, Amazon
What I wasn't prepared for, though, was what it would do to the area around my eyes. I know the skin around your eyes is very delicate, but since this lotion is intended for use on babies, I thought surely it wouldn't have ill effects on any part of my face. But on the morning of day two I was halfway through a Zumba class when my glisten turned to sweat. When the perspiration hit my eyes it felt like the fire of a thousand suns on my cheeks. I had to take a break from class to try and wash it off, and when I got home an hour later, it was still burning. For the rest of the week I took care not to put the lotion anywhere near my eyes, but it was a painful lesson to learn.
Should I Ditch Makeup Remover?
I've used baby oil as makeup remover before — back in my days of dance team performances — so I wasn't surprised to see it's still a fantastic way to make sure you get all your makeup off quickly. I typically use Pond's wipes to remove my makeup, and I have to say, the baby oil did a more thorough job than my standard go-to.
Pond's MoistureClean Towelettes (2-pack), $8, Amazon
The downside was the residue left behind by the baby oil. Although the makeup was history, the oil was still very much there and hung around even after I washed my face. When I blinked I could feel my lashes clinging together, and that feeling lasted until I took a break from makeup on day four to let my poor eyes recover a bit. For the rest of the week I used just a tiny bit of oil and that seemed to help a little. Still, in a pinch, or for removing a particularly dramatic smoky eye, baby oil isn't half bad.
Did The Boys' Products Work?
Sadly, I won't be cutting down my shopping list by using the same bath products as my kids. Adults' hair and skin is not the same as babies', and there's a reason why bath products are formulated differently for each group. Doing this experiment made me realize how much I value having my own beauty products, and perhaps it's good for me to have a part of my life that's just mine and not infiltrated by my kids.
That being said, if we were packing for a short one-or two-night trip and I didn't want to pay for checking an extra bag, I could make do with using baby lotion, baby body wash, and even leave my face wash at home. But when it comes to hair products or face lotion, the adult versions are the way to go.
Images Courtesy of Megan Zander (6)