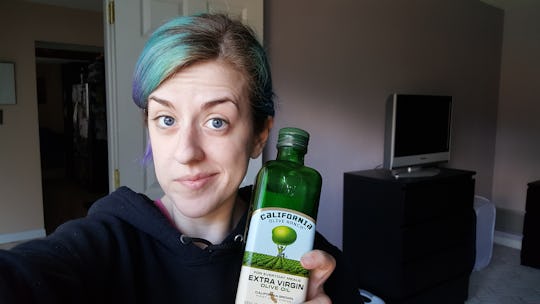 Courtesy of Sarah Bunton
I Used Olive Oil Hair Treatments For A Week & Here's What Happened
They say you can't have your cake and eat it, too, but I disagree — and not just because I love dessert. I think everyone wants to have gorgeous color and healthy hair without having to sacrifice one for the other. Sure, you can spend oodles of money on products that say they'll cure all your hair care woes, but in my experience, the health and beauty industry is all too quick to make empty promises in order to get consumers to buy, buy, buy. Since I'm not exactly in a rush to empty my bank account, I wanted to try olive oil hair treatments to see if I could mend my hair in the comfort of my own home.
I'm no stranger to DIY conditioning hacks for colored hair, but I have yet to find a magical solution to keep my locks luscious long-term. Dying my hair often and regularly has been hard on my hair, and in an effort to moisturize and preserve my mane, I wanted to try olive oil treatments. According to ELLE, using olive oil on your hair is genius for a few reasons: Olive oil is rich in antioxidants (and vitamins A and E), and these help protect the keratin in hair by locking in moisture. Using olive oil on your hair may also promote hair growth by removing sebum buildup so new hair follicles can form.
If you've ever had your hair bleached first in order to achieve a vibrant hue then you know the toll it can take on your strands. Logically I know that I should probably give my hair a break sometime soon, but I just can't say goodbye to rocking the many shades of the rainbow quite yet. So is it really possible to have the best of both worlds?
The Experiment
For seven consecutive days, I would try out some of the best olive oil hair treatments recommended by either friends or stylists. I didn't want to get my hopes too high, but since there are so many quick and easy DIY options out there these days, I figured I'd give it a go. Best-case scenario? I'd stumble upon the holy grail of hair care and find a treatment that let me keep my crazy color without damaging my hair. Worst-case scenario? Maybe greasy hair and a bit of disappointment. Only time would tell.