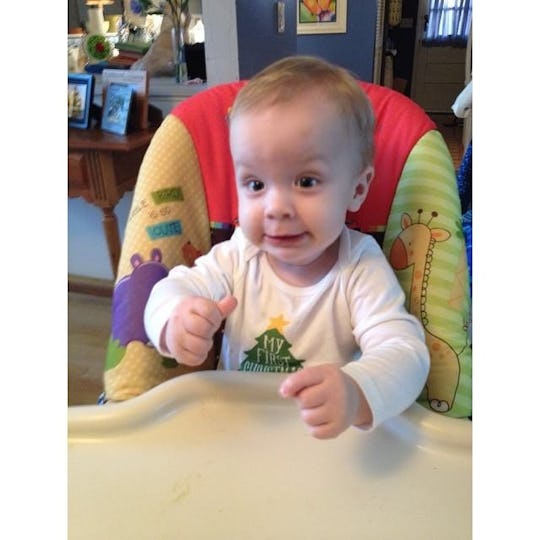 Courtesy of Sarah Bunton
I Used The Wonder Weeks App To Understand My Son's Tantrums
You might have heard about incredibly popular The Wonder Weeks app and how it's supposed to chart your baby's developmental progress and give you an idea of when you can expect your child to experience easy or difficult days. According to The Wonder Weeks site, "the app shows when your baby makes a leap in mental development," and explains what your baby can understand and learn after graduating to the next developmental milestone. What parent wouldn't love a sneak peek into what's making their little one tick? If you've seen the movie Inside Out, then you know how awesome it'd be to get a glimpse inside your non-verbal baby's mind. Without giving any spoilers away, the premise of Inside Out is that a girl's emotions are personified and the audience gets to see how and what goes on in her head. I could only hope that this app might give me an opportunity to come as close as that.
That's perhaps one of the biggest reasons why I was drawn to trying out the app myself. I desperately wanted some type of Rosetta Stone decoder to make sense of my son's seemingly random and inconsolable tantrums. His crying, I at least had some idea of what it indicated — maybe he was tired, hungry, wet, or physically uncomfortable — but his fussiness and visible frustration left both of us feeling a bit helpless at times. So I decided that, with nothing to lose, I'd see if The Wonder Weeks app could give me a forecast for and an interpretation of my baby's development and behavior.
Essentially, The Wonder Weeks gives parents a bit of an idea of what they can expect in terms of their baby's developmental milestones, calm periods, cranky moods, and more detailed information on what their new abilities mean. For instance, in the developmental leap of "The World of Patterns," the reason your baby might seem more fascinated by details is because their brain is beginning to associate and recognize patterns now, according to the app. So I was interested to know not only when to expect certain changes, but why they occurred.
The Experiment
Since the developmental leaps were said to occur within a range ("The World of Patterns" can happen anywhere between 7 to 9 weeks of age, according to the app's information page) and I wanted to get a full picture of how my baby compared to the predictions of the chart, I figured I'd try the app out for a month. It seemed simple enough, so there really wasn't very much I needed to do to our routine except monitor my baby's chart and development, which I was already obsessively doing anyways.