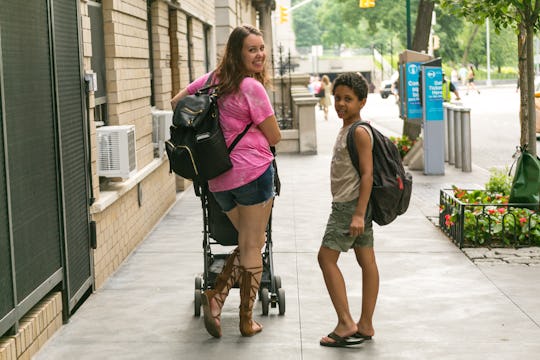 Photo courtesy of Allison Cooper
I Want to Be Remembered By My Kids As A Mom Who Tried
I never expected to be a Pinterest-level mom. I don't worry as much about what other moms think of me, but I do worry what my kids think about me. This past Fall, I wanted my kids to have the pumpkin and apple-picking excursions that made it feel like Fall. The things that we do together each year as a family. But because of my husband's military schedule, it left us with very little time for upstate pumpkin-patch trips on the weekends.
So what's a mom left to do? Improvise, right? My husband left for an army reserves weekend, and I ordered mini pumpkins to paint, along with our grocery delivery. But of course, everything arrived that day except the pumpkins. My son and I canvassed our neighborhood to see if any store was carrying them, without any luck. The day was a flop and I was left wondering if my son even took note of how hard I tried to make it special.
Sometimes I really do wonder what my kids actually think of me. We have our moments, these two kiddos and I, and some are filled with smiles and cuddles — and some are filled with all of us taking deep breaths as "mean mom" is unleashed. I guess it's more in those moments where I worry that when I yell or scold or repeat myself for the millionth time about cleaning up or doing homework if those are the moments that stick in their minds. I worry that's how I'll be remembered.
I've heard other moms over the years say things like they don't really care or they just want to make sure they're respected. I feel that and I respect that myself, and while I don't necessarily think that I must have a Lorelai and Rory type of connection, I do want them to think of me fondly and know that I have always, always tried my best for them.
There are a lot of things that I will never be in this whole world of parenting, but if I focus on all those things, I'll live with mom guilt everyday and lose sight of the great mom that I know I am.
I have been a mom for over nine years now. I have a super chatty nine-year-old son and a 14-month-old daughter who has so much energy that I pretty much need a coffee IV on a daily basis. Every day is different, not every day is easy and some days I'm flat out spent by 5 p.m. in the evening. In those nine years or so, I've learned that there are a lot of things that I will never be in this whole world of parenting, but if I focus on all those things, I'll live with mom guilt everyday and lose sight of the great mom that I know I am.
I will never be a Pinterest mom or the best cook or the best housekeeper, but my kid's bellies are always filled, the house looks clean (because that's all that matters, right?) and I manage to a handful of crafts or projects with them throughout the year, mostly tied to the holidays. I get up and try my hardest for them every single day because I think back on the epic memories that I've had from my childhood and want them to have those, too.
And just like this past Halloween, it wasn't perfect, but we did try. We grabbed my son from the bus stop and headed to a local Halloween festival that the community held a few streets down from us. While he only got to enjoy it for a quick half an hour before it shut down, we did make it to some cool trick-or-treating spots after and dedicated the rest of the night to a scary movie and ordering takeout - all on a school night. Sometimes parenting means improvising and I've realized that's okay.
We deal with a lot of that as parents. I know that I can't make everyone happy all the time, but of course I want to. I think it's something within us all that we strive for everyday and that's where a lot of mom guilt comes from to begin with. We try and try and try and it almost always seems like someone is unhappy - no matter how much effort is put in.
I also work from home and the scope of my work daily as a writer and influencer includes lots of taking pictures, being behind the computer and creating content that hopefully people will read and find engaging. Because of this they get a birdseye view of just how hard their old mom actually works day in and day out. A lot of this work includes my kids, which means that there are days where they are all hands on deck and others when they are less than enthusiastic about being a part of anything that I'm working on. It's a daily struggle for balance, but they get to witness me working and doing my best every single day and hope they take away how important it is to always try and give everything our all.
This observing of what I do makes me hopeful. I hope that they will see how hard I work to make ends meet and give them a life that is full. I hope that they learn from me that time and dedication to your career pays off. And mostly, that if you work hard that you can accomplish any goal that you can dream of in life. I hope that this life skill marinades in their brains everyday and when they are grown will be able to relay it to their own studies, then career, then everyday adult life.
And I'm no different than any mom out there. We all start our days with the best of intentions and sometimes things go awry, and that's OK. Each day is different in parenting and we never quite know what to expect, but trying our best will always be the right answer in my book. Even if I fail I want my kids to know it didn't come without so much effort, everyday, with them always on my mind.
Check out Romper's new video series, Romper's Doula Diaries:
Watch full episodes of Romper's Doula Diaries on Facebook Watch.