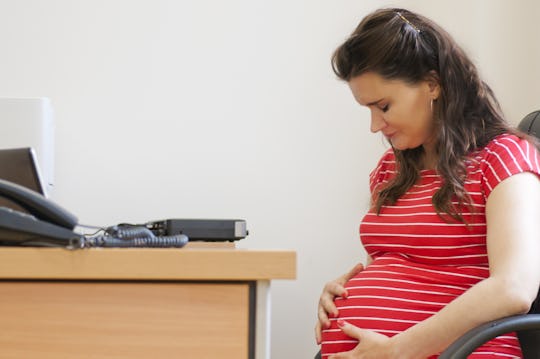 Fotolia
I Went Into Labor During A Job Interview, & Lived To Tell The Tale
"I may be having pre-labor pains," I said, trying to smile at the NASA employee about to interview me. "So if you see me making some funny faces, that's why." He paused for a split second. Then he nodded and chuckled like "ha ha, NBD." NASA deals with landing robots on planets millions of miles away, so I guess a woman possibly in labor figures low on the excitement scale. As he passed through the security gate, I followed him, waddling along. Going on a job interview while pregnant isn't anyone's dream situation to begin with, but neither of us quite anticipated what we were in for.
Five hours earlier, I was laying on a paper-covered examination table, the OB-GYN's head in-between my knees. My due date was nearly a month away. But every once in awhile, I felt a painful tightening that suspiciously reminded me of labor. As my first baby arrived five days late and 10 hours after my water broke, I was certain nothing was going on. But I wanted to check — just in case.
She popped up her head and snapped off her gloves. I shimmied up.
"You're 3 centimeters dilated. The baby could come this weekend or not for a couple of weeks," she stated flatly.
"So I probably shouldn't leave the state?" After a long decline, my grandmother had passed away the week before. I would have liked to go to her funeral, but I didn't want to give birth on the New Jersey Turnpike.
"I wouldn't think so."
That's as close as she ever got to a declaration.
"But I can go into the city later today, right?" I asked, stretching out the last word.
I had an interview that afternoon in downtown Washington D.C. It was for a social media coordinator position at NASA, a dream job for a lifelong science geek like myself. Even when I applied, I was certain I didn't qualify. Reading the email inviting me to interview, I gaped at the computer screen. This appointment was for the second round of interviews. I was going to this meeting, dilation be damned!
After a pause, she said, "That should be OK."
Good enough.
The low-level, inconsistent pain continued throughout the day. By the time I got to the interview, I was entering a fraught relationship with the ability to walk. I leaned against the front desk and tried to pretend that I wouldn't fall over without the help of the counter. Watching the person in front of me sign in, every pen stroke seemed to take minutes. My hands twitched as I attached the paper security badge to my maternity dress. When the person interviewing me finally entered the lobby, I eked out a smile.
They asked questions, and I gave answers. All the while, my body was going through its own launch countdown.
Entering his office and sitting down — after stopping at the bathroom, of course — everything got easier. The man who would be my boss sat behind his desk, while one of his colleagues perched on the sofa to the right of me. The third smiled back from a computer screen, calling in from the West Coast. Taking a quick glance around the office, I grinned at the array of robot and spaceship toys decorating the bookshelf. The office chair's mesh hugged my back just enough. I breathed deep.
They asked questions, and I gave answers. We bonded over our frustrations with scientists. All the while, my body was going through its own launch countdown.
I felt ridiculously relaxed, considering the circumstances. My lower back would ache every few minutes, but it eased as I rubbed it with my back of my hand. I could compartmentalize the pain as I worked to present myself as an intelligent, capable communicator who just happened to be extremely pregnant.
And then like that, it was over. An entire hour had passed. "You better get going," the lead interviewer commented. "We've dealt with exploding rockets, but never a baby being born."
"Ha ha ha," I stammered. I had been trying to hide my pain, but I suppose my face revealed more than I had realized.
The truth of his statement quickly became obvious. Walking out of the building, I started to stagger. Dragging myself the few feet to our car triggered waves of painful pressure. I almost fell over waiting for the pedestrian light to change.
"I think I really am in labor," I choked out to my husband as he strapped our 2-year-old into his car seat. Driving down the parkway, I alternated between groaning, stretching, and staring at the Potomac River. The contractions were uneven but unrelenting. As the car lurched along in traffic, I panic-texted the babysitter.
Arriving at the house 45 minutes later, I swayed back and forth while dragging on pajama pants and cramming my stuff in a bag.
Meanwhile, my husband was... making a sandwich. "You're making a sandwich? I'm having contractions every three minutes!" I gasped.
The front desk staff asked for my insurance, and I screamed, "I'm having a baby!" as we rolled by.
As soon as the sitter arrived, we piled into the car. Halfway to the hospital, my pajama pants were soaked and I felt a urge to push. "The baby is coming! Go, just go! Run the red light!" I screamed to my husband.
"It's a six-lane intersection!" he responded. Needless to say, he ignored my directions.
Arriving at the hospital, my husband left the car in the emergency lane, shoved me in a wheelchair, and sprinted us up to maternity. The front desk staff asked for my insurance, and I screamed, "I'm having a baby!" as we rolled by.
In the ward, the nurse said, "Well, let's see how far along you really are." That was quickly followed by, "Oh, there's the head!"
I wanted to mutter "I told you so."
A minute or so later, our son was born. Early and tiny and perfect. Everything about him was small, from his little head to his elfin ears to his miniscule toes. Holding him in my arms, I stared at him and smiled in wonder.
These days, that tiny baby is 20 months old and climbing every piece of furniture he can get his hands on.
Now, more than a year later, I look back at his birth when I'm in doubt of my own abilities. Whether I'm finishing a hard run or waking up for the fourth time in a single night to respond to a kid, I think, "I can do this. I gave birth two hours after finishing an interview."
Needless to say, most women won't face this particular experience. But if you're pregnant and wanting to make a career change, go for it. You never know what will happen; my interview was definitely memorable for everyone involved. While the position didn't pan out for reasons beyond my control, I landed a different job that I love just after returning from maternity leave.
Even if you're not on the job hunt while pregnant or in labor, we do all have moments where we can say, "I was a badass." In parenting, there's so much that makes us question ourselves, so we have to hold tight to times where we really shined.
Or as my sister-in-law texted me afterwards: "You are literally my feminist hero right now!!" Let's all embrace our feminist hero moments when we can.
Check out Romper's new video series, Romper's Doula Diaries:
Watch full episodes of Romper's Doula Diaries on Facebook Watch.