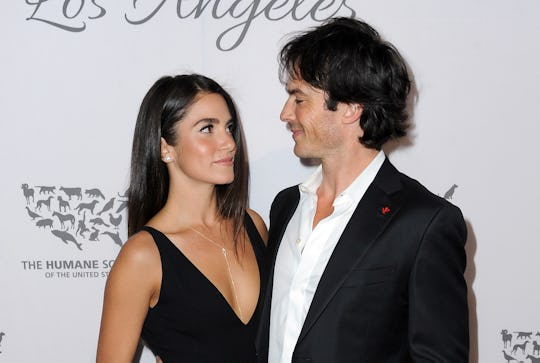 Angela Weiss/Getty Images Entertainment/Getty Images
Ian Somerhalder's Tribute To Nikki Reed As A New Mom Will Melt Your Cold Heart
After years of being the embodiment of "couple goals," Ian Somerhalder wrote an incredible tribute to Nikki Reed as a mom that shows their love is just as alive and well as it was pre-baby. Somerhalder was appropriately captivated by his wife's recent cover shoot and took to Instagram to share his swooning with the world. He praised her for the grace and beauty of her pregnancy, and in doing so, set a high standard for other new dads wanting to support and appreciate the mothers of their children.
Somerhalder and Reed welcomed their new baby girl, Bodhi Soleli Reed Somerhalder, on July 25. After months of public speculation, the two announced their pregnancy this May via Reed's Instagram. Along with a beautiful photo of her bump, the then-expectant mother wrote a love letter to her growing baby, according to E! Online:
I know you, but only because I feel you. How is it possible to love someone so much already? All I know for sure is it's the strongest feeling I've ever felt.
Somerhalder, too, shared his excitement for the new baby over Instagram:
To our friends, family, and rest of the world. In my 38 years on this earth I've never experienced anything more powerful and beautiful than this. I can't think of anything more exciting than this next chapter and we wanted you to hear this from us first.
Given his most recent post about Reed and their young daughter, Somerhalder is still incredibly excited and proud. Beneath a photo of Reed's recent cover photo with Fit Pregnancy and Baby, Somerhalder wrote a love letter of his own to his napping wife:
Just a quick note to you my beautiful wife. You are briefly napping on the other side of the room after being an amazing mom all night so you'll read this when you wake... seeing these images reminds me of those amazing 9 months that you sacrificed your whole being to grow our little one. The kindness, the beauty and organic nature of these photos makes me so very proud.
The proud dad went on to praise his wife for her elegance and energy during her pregnancy:
You brought such fun and such power into our lives being pregnant but you literally brought the word sexy into pregnancy, we all see it. Thank you for being my partner in this life and thank you for inspiring not just me but all others who read, hear or see what your soul gives us. Love, Your husband
Reed and Somerhalder have decided to take a "month of silence" with baby Bodhi, so there have been no photos released of the newest addition to the family. As fans respect their time together, it is nice to get an update on the little family and feel the love between them.