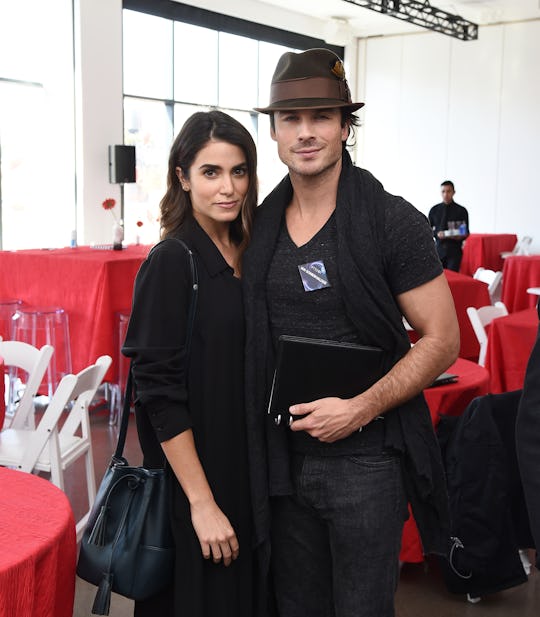 Ilya S. Savenok/Getty Images Entertainment/Getty Images
Ian Somerhalder's Quotes About Fatherhood Are Far & Few Between
Becoming a parent for the first time is exciting for any couple, but it's especially something for fans to witness when a beloved celebrity couple welcomes a little one to the world. Truly, there is nothing that makes fans happier than watching their favorite celebrities become overjoyed and expand their family by one more. Actors Ian Somerhalder and Nikki Reed, for instance, who just welcomed a baby girl, are no exception to this. Fans (along with the couple) were seriously excited when Reed gave birth late last month. And while Somerhalder's quotes on becoming a dad are very rare, it is clear that he was ready to become a dad based on his love for his animals.
Somerhalder and Reed had been friends for years before finally getting together and welcoming daughter Bodhi in late July. The two began dating in 2014 and got married in the fall of 2015. By being together for so long, the two have certainly had the time to prepare for parenthood. And in a recent interview with FitPregnancy, Reed opened up about how excited she was to be pregnant. "Being pregnant gave me instant perspective," Reed told the magazine. "It's the first time in my life that I haven't passed on anything that isn't exactly what I want to be doing."
While Bodhi is the first biological child for Somerhalder and Reed, they've had experience being parents to fur babies, or their many animals. Together, Somerhalder and Reed have four dogs, three cats, and two horses, according to Los Angeles Confidential Magazine. Somerhalder is incredibly open about his love for his animals, and just a little less open about his desire to be a dad.
But just last week, Somerhalder told People all about his love of pets — and revealed how it helped prepare him for fatherhood:
To get up in the middle of the night to bottle feed eight kittens that would die without you, it gives you a sense of what it's like to care for something that depends on you for its survival. It's a very special thing. It's a great beginners course.
Somerhalder also told People that he was well prepared for the dirty side of parenting by having animals first. "I've learned to smile through cleaning endless amounts of poop and pee." And that, because of having animals in his life, caring for them has given him "love and patience" to be a dad. He is so right about that.
Before he became a dad, it was obvious that Somerhalder was ready for parenthood. In Instagram posts about his cats, Somerhalder refers to himself as their dad, which is pretty darn cute.
And just two years ago Somerhalder told Entertainment Tonight that he was ready to be a dad, eventually, according to Us Weekly:
It's the most incredible thing to be happy and secure in something. It's a pretty crazy time and place to bring a child into this turbulent and insane world — but I really can't wait to do it and really just love it.
While Somerhalder has kept relatively quiet about his desire to become a dad and fatherhood as a whole, there is no denying that he has plenty of experience in caring for others and seems perfectly suited to be a father.