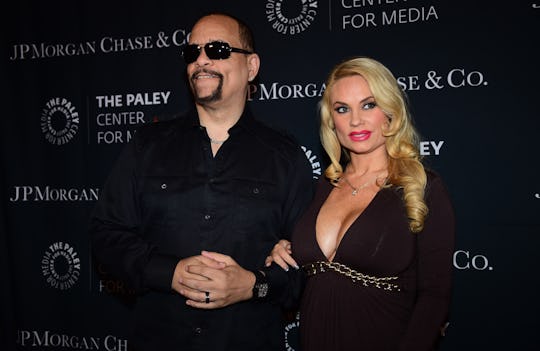 FREDERIC J. BROWN/AFP/Getty Images
Ice-T & Coco Brought Their Baby On 'The Tonight Show' For A Photo Shoot
Ice-T and Coco Austin are quickly becoming my very favorite celebrity parents. Those two are cuckoo crazy in love with their baby girl, Chanel and it's fun to watch the OG and his wife go gaga. We got another look at Ice-T and Coco as the preening parents when the former rapper brought out his wife and baby during his appearance on The Tonight Show. Yes, Ice-T and Coco took the baby on The Tonight Show and it's safe to say, the whole family killed it. Oh, Jimmy Fallon is still the cutest, and watching him take selfies and get on the floor to hold the tiny baby gave me all the feels.
So let's break down all of the very best moments and why this might be the most fab late night baby moment ever. And, like any famous lady totally over the whole thing, Chanel goes full queen and sleeps through the entire appearance. Fallon who? Wake her up when it's time for a snack. That's my kinda girl.
After Fallon asked to see a picture of Chanel, Coco sauntered out from behind the curtain to give us all a peek at the gorgeous four-month-old, festooned with every fancy frill imaginable.
Coco is fab and please notice Chanel is totally asleep.
Coco said Chanel fell asleep backstage listening to The Roots play. You know, like most babies who get serenaded by one of the world's most famous bands. Also, those diamond earrings? The headband? So pretty.
Also, like her mama, Chanel likes a killer pair of shoes. She also likes to sleep with her legs crossed because she's a fancy lady. Coco's nails are pretty fantastic too.
Ice-T might still be an awesome, old school rapper at heart, but he's all mushy, proud daddy around his two girls. Look at that smile!
Coco admits, like any new mama, she takes a lot of pictures of Chanel. But it sounds like the baby girl is already following in her model mom's footsteps. "She's gonna be awesome in five years," Coco said. The whole time Coco talks, Ice-T cannot take his eyes off that baby. So sweet.
Then Ice-T suggests they take a picture together and Coco calls him out on all the times he got mad when people showed him baby pictures. He totally does that now, he confessed.
Then, after a few technical difficulties only a couple of tired parents could have about how to work the phone, the four of them took a selfie.
Then Coco asked Fallon if he wanted to hold the baby, so he got on the floor — for safety's sake.
Then, Coco got a picture of Chanel and Fallon, who daddy Ice-T calls her "rich uncle," which Fallon liked.
I have a feeling this won't be little Chanel's last appearance on national, late-night TV and we can't wait to see her and her doting parents again. You can watch the whole clip of Ice-T, Coco, and Chanel on The Tonight Show's site.