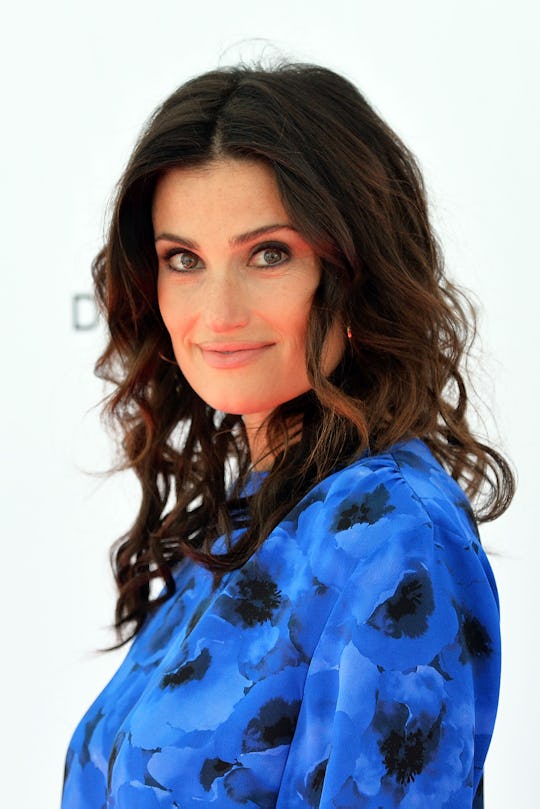 Slaven Vlasic/Getty Images Entertainment/Getty Images
Idina Menzel Says Giving Elsa A Girlfriend Would Be 'Great' & Her Support Is Everything
Disney's animated film Frozen took over the world when the film was first released in 2013, earning more than $1 billion worldwide. Now, as a sequel is in the works, fans have begun petitioning for a new romantic element in the movie and Queen Elsa is totally on board. Idina Menzel this weekend said giving Elsa a girlfriend would be "great" and her support goes a long way in making this mission a reality for the film's fans.
The #GiveElsaaGirlfriend petition has gone viral recently, having had its start among LGBTQ and LGBTQ-advocate fans on social media, and has reached as far as the red carpet at the Billboard Music Awards on Sunday.
"I think it's great," Broadway actress Menzel told Entertainment Tonight of the online campaign while on the red carpet at the Billboard Music Awards. "Disney's just gotta contend with that. I'll let them figure that out."
Menzel, who is the voice of the beloved Frozen character Elsa, said she will love the character regardless if Disney decides to pursue the petition's mission, which was started by 17 year-old Alexis Isabel Moncada on Twitter on April 30. (Moncada said a lesbian Disney princess would be "iconic.")
"No matter what," Menzel told Entertainment Tonight, "[Elsa] changed my life."
Supporters of the petition have taken to Twitter to show why they're behind Disney having a same-sex romance in a film about confronting your fears. "It's crucial for ... generations to come to learn to be okay with themselves and the world," wrote one fan.
"We see princes and princesses, beasts and women, women and frogs ... yet no women who love other women?" Moncada, who started the online petition, told NBC News on Monday. "If we're going to displace a group of people because it's inappropriate — then so is seeing every other relationship."
Not everyone is on team #GiveElsaaGirlfriend. In response to the campaign started by Moncada, another petition to find Elsa find the perfect man was started on Monday on CitizenGO, an online petition platform, with the hashtag #CharmingPrinceForElsa.
"We're suggesting a much better idea," the CitizenGO petition reads. "An idea that promotes solid family values to our children and represents the natural family."
"The entertainment industry has given us girls who have fallen in love with beasts, ogres who fall for humans, and even grown women who love bees," the hashtag's creator explained in an article for MTV.com published on May 3. "But we've never been able to see the purity in a queer relationship. ... Many in the LGBT community view Frozen as a metaphor for the experience of coming out and accepting who you are. Yet Elsa, the film's protagonist, will probably end up with a male prince or king in the upcoming Frozen sequel."
Frozen fans and the petition supporters don't seem like they'll let it go when it comes to #GiveElsaaGirlfriend, same goes for those who oppose a same-sex romance in Frozen 2. The campaign's creator makes some excellent points on how iconic the move would be on Disney's part. As the debate continues, the petition has gained some significant traction recently, especially by getting Queen Elsa herself on board. Now all we need is the go-ahead from Disney.