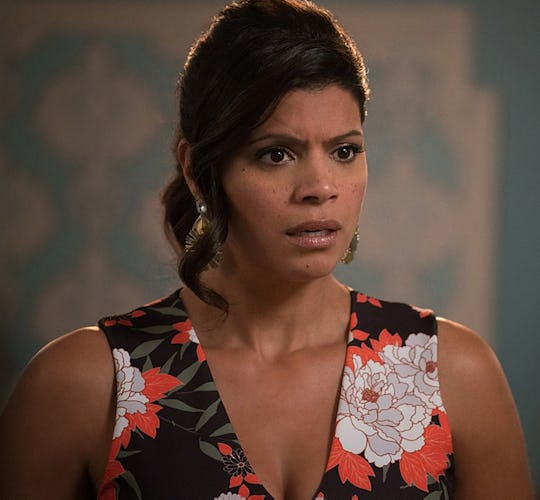 If Xo Gets An Abortion On 'Jane The Virgin,' Her Decision Should Be Respected
During the Season 2 finale of the Jane the Virgin, it was revealed that Xo was pregnant with Rogelio's arch-nemesis, Esteban's, baby, which is unfortunate because the reason she and Rogelio broke up was because he wanted kids and Xo did not. After the finale, there was much speculation about what Xo would do about her pregnancy, but it seems she has come to a decision and she won't be keeping the baby. Although Xo is perfectly in her right to make this choice it's possible some characters on the show may not be supportive. But if Xo does get an abortion on Jane the Virgin, her decision should be respected by everyone and here's why.
In the Season 3 premiere of Jane the Virgin, Xo told Rogelio about her pregnancy, but explained to him that if she wasn't willing to have kids with him, she surely didn't want to have Esteban's child. With that in mind, it seems fair to assume that Xo plans to have an abortion and that's completely her right. This is Xo's choice, no one else's and she can make this decision on her own. Although Xo made a different choice when she became pregnant with Jane when she was 16, that has no effect on her decisions now and hopefully both Jane and Alba will be able to respect that.
Both Alba and Jane have strong Catholic beliefs and it will undoubtedly spark a discussion, or worse, a fight, if/when Xo tells them she's getting an abortion. Although Alba has since revealed she wasn't the saint she always portrayed herself to be and was hard on Xo all those years because of her own past mistakes, this is something different entirely. Alba may have accepted that her daughter will continue to have premarital sex and not judge her for it, but Alba will probably struggle with the idea of her daughter having an abortion. Jane will probably also have a difficult time with this idea and will probably think about not only Xo's pregnancy with her, but her own pregnancy with Mateo, which was very unconventional, but she did it anyway.
Still the Villanueva's are a tight knit family and it would be surprising if Alba and Jane didn't support Xo in whatever decision she ends up making, even if they don't agree with it. Because no matter what they think, it's still Xo's choice and the truth is she'll do what she wants whether they agree with her or not. Hopefully though she'll have her family by her side as she makes this tough decision. Rogelio seemed extremely supportive when she told him her decision. Let's just hope the rest of her loved ones follow suit.