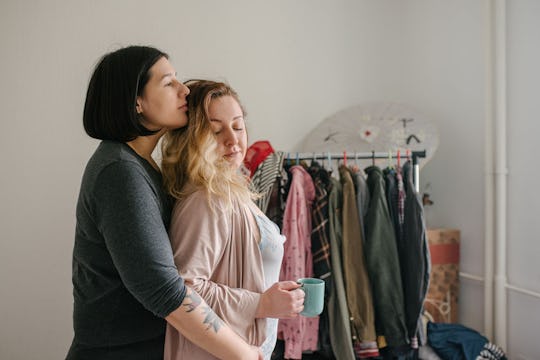 Evil Pixels Photography/Stocksy
If You Get Nervous Saying These 5 Things To Your Partner, They Aren't The One
For the most part, you should feel free to talk about nearly anything in a healthy relationship. It's a conversational free-for-all. So if you feel uncomfortable saying certain things to your partner, then it may be time to reconsider the relationship. In general, it's best to be with someone who is happy to discuss anything and everything with you.
Of course, these communication needs apply more to long-term, serious relationships. Nobody expects you to bust out with an "I love you" the first time you meet a Tinder date. These conversations take place over time, and it happens at a difference pace for everyone. But as a relationship progresses, it's only natural to open up and express yourself more.
Granted, communicating openly in a relationship isn't the easiest thing for everyone. Some people are simply more reserved than others, or they come from backgrounds where emotional expression is pretty limited. But in general, couples do well to communicate their needs to one another. It's the best way to establish boundaries, express your feelings, or even learn embarrassing childhood stories about your significant other. Read on to learn more about the topics couples in a healthy relationship should be able to talk about.