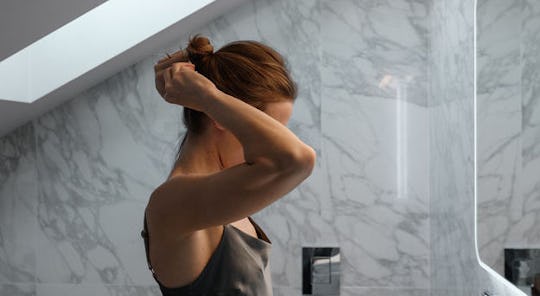 Milles Studio/Stocksy
If You Have Dry Hair, It Can Mean These 6 Things About Your Health
Although it's often thought about in purely cosmetic ways, a person's hair can actually say quite a bit about their health. For instance, many different health conditions can cause dry hair, in addition to other symptoms. Although it may not be the most glaring symptom ever, dried-out hair can signify a lot about the body's hormonal balances, thyroid health, and nutritional well-being.
To understand why certain health conditions can cause dry hair, first it's important to know a little bit about hair anatomy. Made up of three layers of protein called keratin, a hair shaft is actually dead material, according to Verywell Health. How can something dead reflect on your health? "So as an educator and hairdresser, we know that healthy hair is a reflection of healthy skin," said stylist Travis Valdez in Philly Voice. "So although the actual compound of hair may be dead, there's still definitely a gradient of the type of hair people have." So if your locks feel dry, there may be a basis for this in your body.
This isn't to say that dry hair is necessarily caused by health issues. After all, habits such as heat styling can damage and dry out hair as well, according to Well and Good. But if your styling habits remain the same and your hair still turns dry, then consider these possible health causes. And as always, don't hesitate to speak with your doctor if dry hair is causing you serious concern.