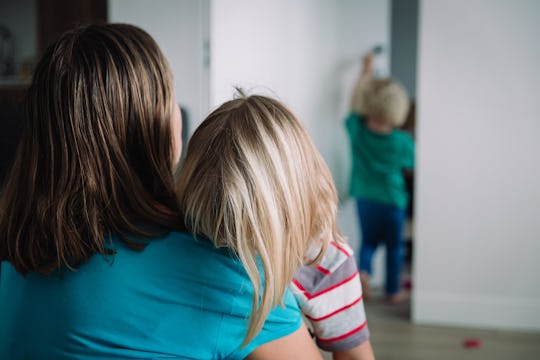 Shutterstock
If Your Mom Did These 9 Things Raising You, You're At Greater Risk For Anxiety
The way you were raised can have a tremendous impact on your mental health later on in life. For instance, if your mom did certain things while raising you, then you're at a greater risk for anxiety. Basically, your childhood history might offer some clues about your current adult anxiety.
First, though, it's important to note that there are many potential causes for anxiety. It isn't fair to blame moms (or dads or aunts or grandparents) for everything anxiety-related. Plus, mental health has lost a lot of its stigma in recent years, so it's something modern parents think about more openly. A few decades back, the potential for giving your kid anxiety was probably not considered. In each generation, most parents are simply doing their best to raise happy and healthy kids with whatever information they have available.
But your parent's attitudes and behaviors may have a lasting effect on your mental health later on. "Obviously, in general, anxious parents tend to raise anxious children," as psychotherapist Karen R. Koenig tells Romper. "This comes from what I call a double whammy: the genes that get passed down from parent to child which include an imbalance of neurotransmitters to combat anxiety and parenting styles which make children more, rather than less, anxious." Read on to see what else Koenig and other experts have to say about raising kids with anxiety.