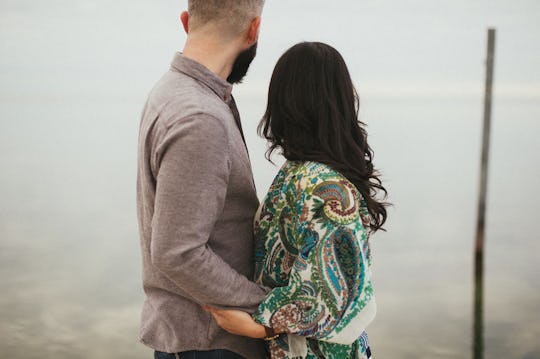 Jess Craven/Stocksy
If Your Partner Did These 7 Things To Woo You, They May Not Be Not Trustworthy
The early days of a relationship can be exciting and confusing. Sometimes, separating first date jitters from feelings of genuine unease about the potential partner can be difficult. In general, though, the signs of an untrustworthy partner reveal themselves pretty quickly. You just have to believe them when you see them.
It would be nice if dating sites included a trustworthiness rating along with height and eye color, for instance, but this is one trait that takes time to uncover. You have to take note of their behavior over the course of several dates to make sure this is a person who follows up on their word. It's a lot to consider when you're also in the process of figuring out whether your date is into the same foods or sports you like as well. Well, no one ever referred to the whole dating process as easy.
But for the most part, taking the time to make sure your partner is trustworthy will pay off so much over time. Being with someone who has your back and keeps their word is well worth all the effort. Because when you're with an untrustworthy partner, it can become an incredibly stressful and unfulfilling experience.