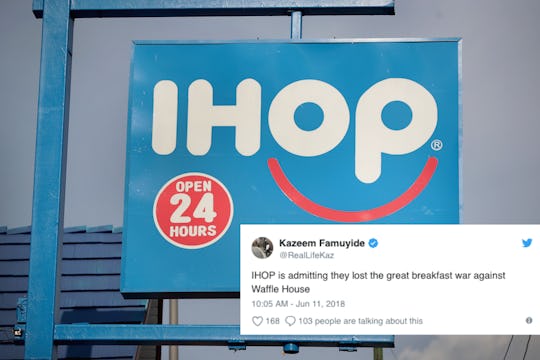 Scott Olson/Getty Images News/Getty Images
IHOP Isn't Changing Its Name To IHOB, & Twitter Is So Confused
If you've ever gone to IHOP, it was probably to satisfy a craving for breakfast food. However, the brand is apparently looking to change its customers' motivation for dining at the restaurant chain. Over the past few weeks, IHOP has been rebranding itself as IHOb all over social media, leaving the identity behind the new "B" a mystery. And now, the restaurant has finally revealed the new letter's meaning. However, it also announced that IHOP is not actually changing it's name to IHOB — and Twitter is pretty confused and unamused.
On Monday, IHOP announced that the "B" in its new name stood for "burgers," CNNMoney reported. The chain reportedly wants to be known as a place to get meals other than breakfast and brunch — such as lunch and dinner. "We are definitely going to be IHOP," IHOP's president Darren Rebelez told CNNMoney. "But we want to convey that we are taking our burgers as seriously as our pancakes."
And IHOP really is taking it seriously. The brand changed its Twitter handle to @ihob, and early Monday morning, tweeted footage of its sizzling new burgers. And despite Rebelez's statement to CNNMoney, whoever is running the Twitter account is still trying to keep the joke up. "This is a joke, right?" someone replied to the video on Twitter. "Nobe, it's real!" IHOb responded.
The ominous brand announcement has been spreading across social media over the past few weeks. And now that IHOP has cleared up the new letter, you'd think people would be all like, "Oh OK." However, people are just as confused as ever. Many took to Twitter to lovingly criticize IHOP's marketing campaign.
While the general consensus is that IHOP is simply not a burger place, a few people decided to respect the rebranding and try the new burgz.
So, even though the name is only temporary, why did IHOP orchestrate this huge marketing campaign about pivoting away from breakfast foods? There are a few reasons, Forbes pointed out. For one thing, IHOP's sales from 2015-2017 were pretty low, according to Statista, so brand execs have reportedly been working on new branding strategies. Additionally, the brand is no longer very trendy, and sugary sweet breakfast foods are not in line with "where the modern Western diet is headed," Forbes surmised.
IHOP revealed more information about the temporary rebranding in a press release shared with Newsweek. Nevielle Panthaky, head of culinary for IHOP, has a comfort-food-related philosophy regarding the switch. He said, according to Newsweek:
Burgers are a quintessential, American menu item so it makes perfect sense that IHOP, one of the most iconic, all-American comfort-food brands in the world, would go over the top to create a delicious line-up of quality burgers that hit the spot any time of day.
Brad Haley, the chief marketing officer for the brand, added:
Everyone knows that IHOP makes world-famous pancakes so we felt like the best way to convince them that we are as serious about our new line of Ultimate Steakburgers as we are about our pancakes, was to change our name to IHOb.
The Ultimate Steakburgers start at $6.99 (for The Classic burger), and they are made of 100% USDA choice Black Angus Beef, according to IHOP's website. If you want to give the new burgers a try, there is of course a breakfast-themed option on the burger menu. The Big Brunch, which goes for $12.19, features hickory-smoked bacon, a fried egg, a crispy browned potato, American cheese, IHOP sauce, and one choice of side. And for a limited time, each burger comes with a free drink.
Is it just me, or is anyone else craving pancakes right now?