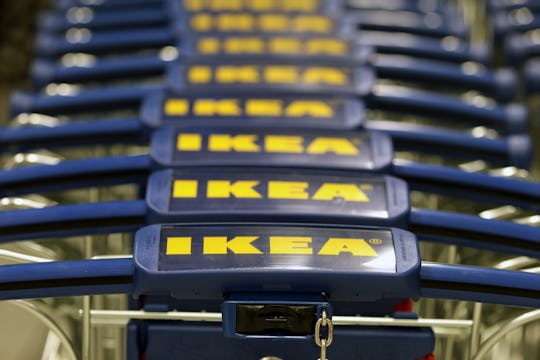 Andreas Rentz/Getty Images News/Getty Images
Ikea's New Toy Line Is A Quirky, Play-Inspired Approach To Kids' Toys
I'm generally of the mind that there's nothing not to love about Ikea. Sure, not everyone's a fan of assembling their own flat-packed furniture using a tiny hex key, but it's easy to leave the store feeling pretty optimistic when you have a belly full of Swedish meatballs and lingonberry jam. As a parent, I've also found the store's children's section to be full of some great finds, but it looks like the company is about to up its toy game: Ikea's new toy line is a quirky, play-inspired approach to kids' toys, and while some of the items may seem a bit, uh, unorthodox, chances are they'll be a hit with youngsters.
Ikea has described it's new limited-edition kids collection, called Lustigt, as being "all about play for the sake of playing," and noted that it's designed for both kids and adults alike to enjoy. As is usually the case with Ikea designs, the line gives off a distinctly simple vibe that feels almost like a throwback to the toys of our own childhoods — think, light-up jump ropes, wooden lacing beads, and a weaving loom — while other pieces — like a play paint roller set, and, inexplicably, a giant, red, hand-shaped cushion — seem as though they've emerged straight from a child's imagination. But there's a good reason for that, too: according to Curbed, Ikea designer Henrik Preutz' 7-year-old daughter was part of the team that helped create the collection.
While I can't say I'm in any hurry to purchase my kids a paint rolling set (that can only end terribly, as far as I'm concerned), it's clear that the team behind Lustigt wanted the collection to do more than simply entertain. According to the Ikea website, Lustigt toys include both "quiet, mind focusing games that develop children's logical thinking and fine motor skills," as well as "more high-energy activities that get bodies of all ages moving," and they were also designed to be open-ended, to encourage creativity. Most importantly though, Ikea said they were specifically designed with kids in mind:
It would be easy to please parents by making a lot of cute miniature products, but it is not the parents who are our target audience ... [Testing products with children] gives us valuable insights and unexpected feedback directly from a child's perspective.
There was also solid data behind the company's decision to launch a play-focused collection, though. In 2015, Ikea conducted a study involving 30,000 parents and children across 12 countries to look at play, development, and family. And what they found is that play time for families is not only super important, but is something more parents and kids wish they could have more of.
And it sounds like the study was on to something, too. An August 2018 report from the American Academy of Pediatrics found that free play is crucial for a child's development. Though we might *think* that pushing academics is the key to raising intelligent children, play can actually help children "develop language and executive functioning skills, learn to negotiate with others and manage stress," and also build focus and help manage distractions.
Of course, any kind of play — not just Ikea-sanctioned play — will offer those benefits. But at a time when it can feel like parents are fighting a losing battle against screen time and technology, there's something pretty refreshing about encouraging back-to-basics play with coloring pages, origami, and cardboard building blocks. Perhaps the best part of the Lustigt collection though, which launches in stores in October? None of it requires any sanity-sucking assembly.