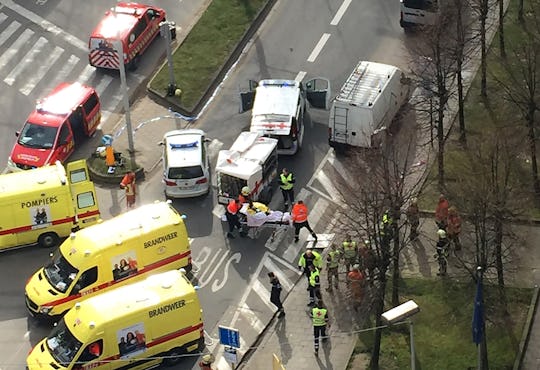 -/AFP/Getty Images
#IkWilHelpen Helps People Offer Shelter To Brussels Attack Survivors, Proving That There's Still Some Good Out There
Brussels was rocked by a terror attack early Tuesday morning, where at least three apparent suicide bombers detonated explosions in the Zaventem airport and the Maelbeek metro station. According to The Guardian, 34 victims have died as a result, and a further 136 have been injured. Belgians are now reaching out to help those displaced by the attack, offering shelter to Brussels attack survivors with the hashtag #IkWilHelpen, which translates to "I want to help," similar to the #PorteOuverte hashtag that trended in Paris last November following another terrorist attack.
BuzzFeed has reported that other helper hashtags have also cropped up. Belgians are offering their fellow citizens a place to stay using #OpenHouse, and those using #BrusselsLift are offering rides to commuters stranded by the attacks. An EU official told Buzzfeed that the offers started pouring in right after news of the explosions broke: "There were immediately cars stopping and offering lifts. In fact, I got to work with someone driving a delivery van." With Brussels on lockdown, and the airport and metro stations closed, that translates to a lot of stranded people who won't be able to get where they need to go these days, but their fellow citizens are standing strong, offering whatever they have to those in need. Survivors are also using the hashtag to ask for assistance.
Plenty of Twitter users are offering rides in and out of various suburbs.
Others are opening up their homes and inviting stranded people to stay overnight.
Still others are going even further, offering up not only shelter and rides, but food, blood, and hugs.
And here's something to consider: as many people as there are stuck in Brussels right now, there are still many stuck outside of Brussels who can't get home thanks to the lockdown and flight cancellations. Some people are offering shelter to those who are stranded in other cities, whether they're a couple of hours or half a world away from their home.
Terror attacks seem to be occurring more and more frequently, and it's hard not to feel hopeless at times. #IkWilHelpen serves not only the people directly affected by the attack, but everyone who needs a reminder that there are still so many wonderful people in the world, and that the good really does outweigh the bad. Remember Fred Rogers' words: "When I was a boy and I would see scary things in the news, my mother would say to me, 'Look for the helpers. You will always find people who are helping.' To this day, especially in times of disaster, I remember my mother's words and I am always comforted by realizing that there are still so many helpers – so many caring people in this world."