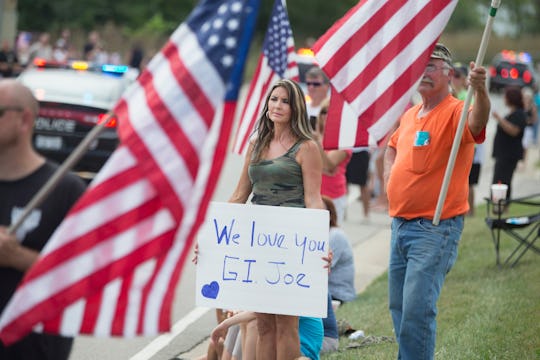 Scott Olson/Getty Images
Illinois Cops' Death Was A Suicide, & It Was "Carefully Staged," According To The Latest Reports
Officials announced Wednesday that after an extensive two-month investigation, the September 1 death of Illinois cop Charles "Joe" Gliniewicz was a planned suicide. Gliniewicz, a 30-year-veteran of the Fox Lake, Illinois police department, was found dead after responding to a call to investigate suspicious activity involving three male suspects, and his death was quickly ruled a homicide. A massive search party began to find the men involved — said to be two white males and one black male — but after incriminating text messages were found deleted from Gliniewicz' phone, investigators have now ruled the the death to be a "carefully-staged suicide" as a result of seven years of "extensive criminal acts" including money laundering. 
Officials say that Gliniewicz used his radio to call for backup on the morning of September 1, after he claimed to have pursued the male suspects on foot. When officers arrived to assist, they found Gliniewicz in a field, having been shot in the chest with his own gun. 
His death rattled the community and resulted in an in-depth manhunt, which included round-the-clock search teams, local and federal SWAT teams, and 48 canine units and an expensive, on-going investigation. Schools were closed the next day, and residents in the area were advised to stay inside for their own safety. But after following up on hundreds of leads, and evidence that included texts and e-mails from Gliniewicz himself, officials learned that the officer had been involved in years of criminal activity, and was allegedly concerned that he would be caught. According to investigators, also had Gliniewicz had experience staging mock crime scenes for training purposes, which allowed him to make his death seem like a homicide. 
Image: Scott Olson/Getty Images