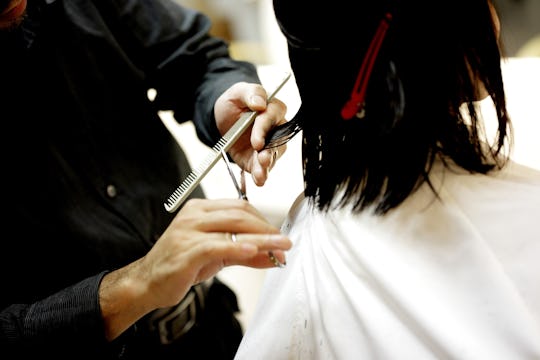 Illinois Hairdressers Will Soon Be Trained To Recognize Domestic Violence To Aid Survivors
The hair salon: it's where you can catch up on e-mails, read a magazine that's five-months old, or play Candy Crush on a lazy Sunday afternoon. It's also where you can gossip with your favorite hairdresser, or get styling tips. But starting in January, that hairdresser can advise you on more than how to create a perfect chignon: she can possibly save your life. Soon, Illinois hairdressers will be trained to recognize domestic violence to help survivors, and that's not only incredibly important, it's just one of the beginning steps towards correcting an issue in society we, for some reason, have not been able to shake.
The fact that nearly one in four women (reported by the CDC) have experienced domestic violence is pretty well-known because it has been widely reported. But knowing what to do when you encounter one of those one in four women? That's a lot harder.
That's why in Illinois professional hairstylists are being trained on what to do if they see someone they think is being abused, the Huffington Post reports. Hairdressers will take a one-hour class on domestic violence and sexual assault, and will be equipped with resources to help domestic violence victims that they can pass onto their clients.
The training curriculum was made by a collaboration between the anti-domestic violence group Chicago Says No More and Cosmetologists Chicago. The National Domestic Violence Hotline provides warning signs to look out for an abusive relationship.
Angela Henderson, owner of Hair Cuttery in Crystal Lake, Illinois, told the Northwest Herald that she thinks the training will be valuable because of the close relationship people have with their hairdressers. "We're not only hairdressers; we feel like counselors, psychologists," she said. "Clients feel comfortable with you, and so they tend to open up more." Of course, unless they hold a degree in psychology, they can not truly act as a therapist. But, to know you have someone on your side, if you do find yourself in a position of abuse, is incredibly important.
Other programs to train hairdressers on what to do if they think a client is being abused have been established across the country. For example, Cut It Out, a program from the The Professional Beauty Association, sends domestic violence trainers to beauty schools and hair salons all across the country to educate hair professionals on how to respond to potential signs of domestic violence.
"We have gotten testimonials from people that said this program saved them," The Professional Beauty Association's Rachel Molepske told Herald Whig regarding Cut It Out. "I'm glad more will be trained to spot the signs and symptoms of domestic violence and to respond appropriately."
However, this is the first time hairdressers will be required by law to have training to recognize domestic violence issues among their clients in any state. The law will take effect starting Jan. 1, as an addition to the Barber, Cosmetology, Esthetics, Hair Braiding and Nail Technology Act.
But there was some opposition to the legislation when it was proposed.
Some stylists feel that the hair salon needs to be a "safe zone" where women can go to get away from their problems.
"I wouldn't want to embarrass a client or make her afraid to come back," Lisa Thomas, owner of Lisa Thomas Salons, told the Chicago Tribune. "I also don't want people to think we are in any way judging them."
But the fact that the salon is a safe space may be exactly why it's the perfect place to receive help about such a life-threatening issue – because likely, the abuser won't be present, especially since many salons cater primarily to women.
And ultimately, helping potential victims of domestic abuse is what matters most. And while this isn't the answer, it's a small step in the right direction. Now, states should start to focus on education and teaching young boys about domestic abuse, so the issue can be remedied at a young age. Also, getting women out of abusive homes, safely, is of course an important step, too.
"The more the public recognizes what domestic violence and sexual assault looks like, the more we are all likely to be able to say, 'This is not your fault, there is help you can get, you don't have to live like this," said Vickie Smith, executive director of the Illinois Coalition Against Domestic Violence, in an interview with the Huffington Post. "It's a form of prevention."