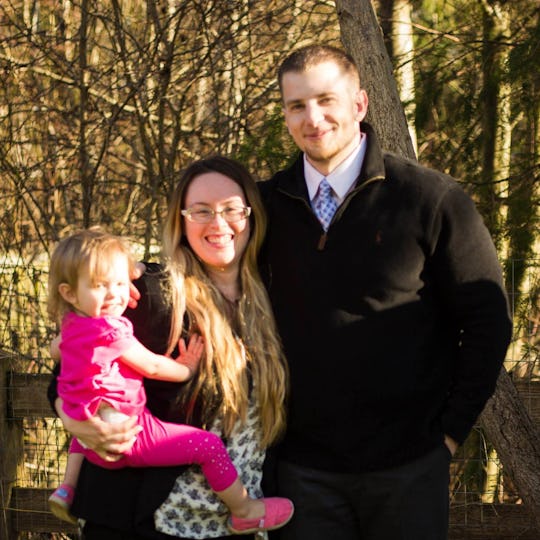 Courtesy of Stephanie Baroni Cook
I'm A Military Mom, & This Is How We Celebrate Thanksgiving
I want to tell you something funny and heartwarming. I really do. I want to tell you about how being a military mom and celebrating holidays like Thanksgiving and Christmas just comes together with a perfectly trimmed turkey and memories that last a lifetime no matter where we're stationed. I want to tell you that the holidays aren't that hard and that Skyping and FaceTiming really does make it feel like we're all here together, where we belong. I want to tell you that celebrating Thanksgiving in the military is just like normal.
But the truth is, the storyline doesn't always look like that. Some holidays come and go for us like any other day of the year. When you sign up to do this thing called "life in the military," you don't really realize what you've given up until those days and moments are upon you, and when you do become a military parent, those realizations can be even more painful than you'd originally thought.
I grew up in a large Italian family. Thanksgiving and Christmas were both planned well in advance and rotated between households. Thanksgiving at my house, Christmas at Grandpa's, next year we will do it at Uncle Tony's, and so on and so forth. Thanksgiving, in particular, meant that family would fly in from all over the country. My uncle and aunt in Sacramento, my cousins from Maryland; the whole gang. Everyone would converge in one location and we'd catch up, drink apple cider and hot cocoa, watch football, fight with our siblings, and eat lots and lots of food. It was a big deal. The kind of big deal that you take for granted as a kid, the kind of the lifelong memories that you create and don't realize till years later how integral they were to your childhood.
When I was 18, I joined the military, and was lucky enough to be home on leave for Thanksgiving. But Christmas would be spent two miles off the coast of Australia, standing watch in a small dark room watching computer screens and reading classified message traffic. It was Christmas everywhere else, but in that tiny dark room, it was just another day and my first taste of what holidays would be like in the military.
Thirteen years later, and I am married to a sailor. We have a nearly-3-year-old daughter and I'm pregnant with our second child. This year, like so many others, we'll spend Thanksgiving thousands of miles away from our families. We'll celebrate with our surrogate family, our military family: a combination of friends and co-workers, and we'll mark this occasion with a potluck. I of course will bring the green bean casserole and the candied yams, like I've done so many times before.
I bring those dishes because of all of the things I miss about Thanksgiving, they are the two things I know I can replicate. For many they may just be side dishes, but they remind me of my parents; they remind me of home. When I make them, I pretend my mother is there guiding me. I remember the many times I watched her make each dish with hurried excitement, mainly because I couldn't wait to try them. I hope to share that with my daughters someday.
When I think of my girls, my heart hurts for them. I know one day they'll have memories like I had growing up, after we've retired. When we can float between each house for the holidays and my daughters will get to play with their cousins instead of friends. But until then, they'll only have memories of spending many holidays Skyping their grandparents from across the world instead of actually celebrating with them.
Spending Thanksgiving in Italy, away from their family, won't even be the worst of it. My girls will eventually celebrate Thanksgiving and Christmas and the New Year away from their father, because he'll eventually be deployed again. More than spending Thanksgiving back at home with my big Italian brood, I dread celebrating holidays without him. Not only will it be hard for them, but somehow I'll have to keep it together too.
Life in the military as a mom isn't all that bad. Remember the part I said about celebrating these moments with our military family? That can be pretty awesome, too. There is less fighting and nitpicking than if they were your relatives, and you get to try many different versions of your favorite Thanksgiving foods. There's typically a lot of wine and beer, and there is still football. My girls get to play with their friends, and did I already say the part about the food? Because yeah, so. much. food.
We'll be separated by the ones we love, but we'll still be surrounded by love.  
And though they may not be family by blood relation, our military family is definitely family by circumstance. They are, quite possibly, the only people who understand how alone and how together we feel, how much we ache for home but how happy we are to have each other. They understand our loneliness, and they're there to guide us through. 
No matter where we are, with family or with friends, the only thing that has ever really mattered to me is that we are together. And this Thanksgiving, I'll be more than grateful for that. 
Images Courtesy of Stephanie Baroni Cook (3)