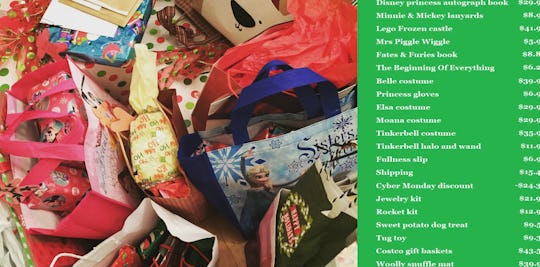 Romper
I'm A Single Mom On $75,000 A Year, & This Is How Much I'm Spending On Christmas
The holidays tend to light up our budget constraints like a Christmas tree — families make tough choices, and try to put on the best celebration they can for their kids. Romper followed several families as they approached the spendiest season, to see how they handled diverse budgets and wishlists this year.
I used to hate Christmas. Hated all the cheer and Feliz Navidading and candy-cane pajamas. I didn't have the best holiday memories from growing up, and moving into adulthood, I spent my first several Christmases completely alone. When I adopted my daughter, everything changed. Overnight, I became a Christmas-loving fanatic. The kind of mom who spends months saving and planning, just to fill the month of December with as much magic and snowflake window-clings and dog stockings as is humanly possible.
Just... keep that in mind as you judge my Christmas spending, which I kicked off in mid-October.
Family: A single mom in her thirties
Location: Alaska
Annual income: approximately $75,000
Number of children: One, aged 4
66 Days To Christmas
Zulily: $70.76 (Red Stripe Santa Top and Candy Cane Petticoat: $27.99; Cream and Black Heart Leggings: $12.99; Minnie Mouse White & Purple Sneakers: $19.99; Jingle Bell Slap Bracelet Set: $9.79)
I'm not even *really* a present person. I don't even put any gifts under the tree until Christmas Eve, purely because I want my kid to enjoy the tree and decorations without obsessing over those packages all month long. To me, Christmas is all about the traditions, one of which is dressing my girl in an adorably festive outfit for our visit to Santa (and then as many times after that as she wants to wear it). I figure I've only got a few more years before she decides she's too old and cool for my holiday apparel plans. So when I saw this outfit on Zulily, I just had to buy it.
The sneakers also happened to be a perfect find for our upcoming trip to Disney World in February (my daughter will be turning 5 at the most magical place on Earth!). I've always liked the "Something they want, something they need, something to wear, and something to read" philosophy of gift-giving around Christmas. I figured these sneakers could be her "something to wear." And the slap bracelets? I'm a child of the '80s. My girl and I will be jingling our wrists right on through December.
Running total: $70.76
47 Days To Christmas
Amazon: $168.22 (Mickey Mouse and Friends Chocolate Advent Calendar: $11.61; Hallmark Keepsake 2017 Like Mom, Like Daughter: $12.95; Love Alaska State Steel Ornament Rustic AK Metal: $10; Puppy Love Black Lab Hallmark Keepsake Ornament: $22.99; Gnawtlers: Premium Elk Antlers for Dogs: $19.99; If You Take a Mouse to the Movies: $10.73; Women's Disney Castle Fitted Trucker Baseball Cap: $45.00; Musical 5" Child Kissing Snowman Glitter Dome: $24.95; The Muppet Christmas Carol: $10)
Etsy: $10 (Elf on the Shelf Notes)
Personal Creations: $43.95 (Dog Stocking: $43.95)
Shutterfly: $24.99 (Photo Ornament: $24.99)
Before my daughter was born, I didn't own even a single tree ornament. So every year, we add a few — a photo ornament reflecting our previous year, an ornament I pick, one she picks, one of her visiting Santa, and one of the Hallmark mother/daughter ornaments. This year we also added one for our new puppy. Which explains the personalized dog stocking. Or maybe it doesn't. In my defense, my daughter calls him her brother! The Elk Antler is for inside his stocking. Duh. And the Disney Trucker Hat is for inside mine. Because, as a single mom, I get to pick a few gifts for myself from "Santa" every year. And I am going to rock that hat all over Disney World.
The book is another annual tradition. I buy her a new one every year, and write a note to her on the inside cover. As for the Elf on the Shelf notes... I have horrible handwriting. I tried to write our Elf notes last year, and it was pretty laughable. Plus I'm worried my daughter will recognize my (terrible) writing.
Running total: $317.92
35 Days To Christmas
Petsmart: $19.99 (Collection of ChuckIt! Dog Balls: $19.99)
Fred Meyer: $26.86 (Candy Canes: $3.00; Christmas Lights: $11.99; Window Cling Decorations: $6.38; Reese's Candy Canes: $2.00; Red Yarn: $3.49)
Fed Ex: $11.61 (Printing Elf Notes on Cardstock: $11.61)
Hey, I have every intention of re-using those elf notes for years to come. And, you know, the dog needed more than just an elk antler for his stocking. Don't want the 4-year-old getting suspicious.
Running total: $378.36
31 Days To Christmas
Amazon: $198.21 (Disney Trading Pins: $17.62; Disney World Pressed Penny Coin Book: $17.97; Disney Princess Autographs and Photographs Book: $29.99; Disney Set of 2 Mickey and Minnie Mouse Lanyards: $8.99; Lego Disney Frozen Arendelle Castle: $41.99; Matilda: $7.91; Mrs. Piggle-Wiggle: $5.99; Fates and Furies: $8.80; The Beginning of Everything: $6.20; Maria Carey's All I Want for Christmas Is You: $12.96; Christmas in Boston: $14.99; Tis' the Season for Love: $5.96; Christmas Detour: $5.96; Christmas Under Wraps: $6.99; Holiday Trims Tree Removal Bag: $5.89)
Mom Approved Costumes: $153.03 (Belle Inspired Yellow Beauty Dress, Deluxe: $39.99; Princess Red Gloves: $6.99; Elsa-Inspired Princess Dress, Traditional: $29.99; Moana-Inspired Polynesian Princess Dress: $29.99; Tinkerbell: $35.99; Tinkerbell Halo & Wand: $11.99; Fullness Slip: $6.99; Black Friday/Cyber Monday Deal: -$24.30, Shipping: $15.40)
And, this is where things got out of control. I never buy my child this many gifts for Christmas — she is going to be blown away. But I had a list of things I was planning on getting her to bring to Disney and it just occurred to me that I might as well give her all of it for Christmas.
When I found the Mom Approved Costumes site, I couldn't stop myself! This goes beyond Disney World — my daughter is going to want to dress up in those costumes all year long.
Then there are the movies. Look, I don't buy movies. But it turns out I'm a sucker for a good old-fashioned holiday romance, and I don't care who knows it.
So here we are, not even December yet, and my Christmas spending is already at over $700. The good news is I am absolutely done buying presents for my girl. But we still have a few other people to buy for. And all our holiday traditions throughout the month of December, few of which are free. Still, seeing just how much I spend on the holiday season is a bit sobering. Especially going into December 1, which is easily my spendiest day of December.
Running total: $727.62
24 Days To Christmas
Snow City Cafe: $42.25 (Breakfast: $31.00; Downtown Parking: $11.25)
My Holiday Moments: $69.98 (Santa Pictures: $69.98)
Hallmark: $54.87 (Disney Frozen Elsa Ornament: $17.95; Three Christmas Cards: $18.97; Annual Musical Stuffed Animal With Lights and Motion: $17.95)
Target: $60.95 (Grinch T-shirt: $14.99; Elf Dog Pajamas: $10.99; Two Jewelry-Making Kits: $21.98; Rocket Kit: $12.99)
PetsMart: $18.93 (Sweet Potato Treat: $9.59; Tug Toy: $9.34)
Bell's Nursery: $85 (Christmas Tree)
My daughter and I call December 1 our "Making Christmas" day. We take the day off school and work and do all the fun Christmas stuff!
First up: breakfast at one of our favorite downtown spots. From there, we walk over to the mall and visit Santa. The Santa we see is amazingly kind and my daughter loves him. The problem this year? They totally jacked up their photo pricing. What I could have gotten least year for about $30 wound up costing me $70 this year. And there was really no choice. If I wanted those pictures (and I did) I had to pay.
Merry Christmas.
From there we go to Hallmark, where my daughter gets to pick out her ornament for the year. We also always get one of their Christmas-themed singing plush toys. The next stops are always to complete my daughter's shopping. As a single mom, my kiddo doesn't really have anyone else to take her gift shopping and I do want her to experience the importance of giving. So we buy for her brother and sisters. My daughter is adopted and doesn't get to see her siblings much, but it's important to me that she thinks about and chooses items to send them.
This year she also managed to talk me into an elf costume for our dog, but only because it was cheap and matches the pajamas we bought last year. So, you know… family photos.
Our last stop is always to pick out our tree. We're #TeamReal in this house, and choosing a Christmas tree together is about as magical as it gets. Afterwards, we go home and decorate. We have a fire in the fireplace, hot chocolate in our mugs, and Christmas music blaring. It's one of my favorite days of the holiday season.
Running total: $1,059.60
22 Days To Christmas
Shutterfly: $147.31 (Photo Book: $234.31; Family Photo Puzzle: $17.99; Ornament with Santa Pictures: $8.99; Prints: $20.98; Discount: -$134.96)
Every year, I make a photo album of the year before. I call it our Family Yearbook. They're expensive and incredibly time consuming to make (I'd say I put about 60 hours into this project, at least). But if you can catch Shutterfly on a good day, their discounts and promotions help. That was what happened this year. The photo prints are for sending to my daughter's bio family and my out-of-state family. And the ornament was the last of the five ornaments we add to our tree every year — one created with her pictures from visiting Santa.
Running total: $1,206.91
21 Days To Christmas
Costco: $54.17 (Gingerbread House Kit: $10.59; Two Gift Baskets: $43.58)
Am I the only one who constantly feels at a loss for what to get my daughter's teachers? This year it will be gourmet hot chocolate baskets from Costco.
Running total: $1,261.08
20 Days To Christmas
Amazon: $118.21 (Christmas With Holly: $13.97; A Christmas Wish: $7.85; Wooly Snuffle Mat: $39.95; We're All Wonders: $9.50; Baby Foot Exfoliant Foot Peel: $25.00; Aqua Sphere Seal Kid Swim Goggles: $12.06; Christmas Dog Gift Wrap: $9.88)
Total Christmas Spend: $1,379.29
And then there was the last Amazon order of the season. I know it was the last because shipping to Alaska always takes forever, even with Prime — if I try to order anything else, it probably won't be here by Christmas.
The We're All Wonders book came about as a result of my daughter pointing at a little girl in the swim locker room recently and asking loudly about her birthmark… yeah, it's time for us to start talking about how all people have differences. The swim goggles are for her stocking, and the foot peel is for mine — I recently saw a video about how this stuff works, and I'm dying to try it! The dog gift-wrap? Well… that's because the present for the puppy have to stand out from the presents for my daughter. (I know.)
The spending isn't exactly over yet. We still have a few fun traditions we do with friends (zoo lights, and making ornaments for the animals, inspired by this book). Then there is a gift for the white-elephant exchange we participate in with friends on Christmas Eve, baking supplies for cookies for Santa, all the fixings for a yummy Christmas breakfast, shipping for everything being sent to the grandparents and my daughter's bio family, and tickets to a movie on Christmas day — a more recent tradition of ours.
The Grand Total
Holiday Clothing: $141.74
Decorations: $503.57
Activities: $112.23
Gifts: $524.43
Holiday movies: $97.32
Total holiday spending as of December 5: $1,379.29
Estimated final total: $1,500.00
... if I'm being kind to myself.
It's more than I would have told you I spend if you'd asked me a month ago. And to be fair, my daughter is getting far more gifts this year than she usually would. But if you ask me, it's still the memories and the traditions we have built together that make up the true magic of Christmas. And for that, I'd probably pay a lot more if I had to…
Check out Romper's new video series, Romper's Doula Diaries:
Watch full episodes of Romper's Doula Diaries on Facebook Watch.