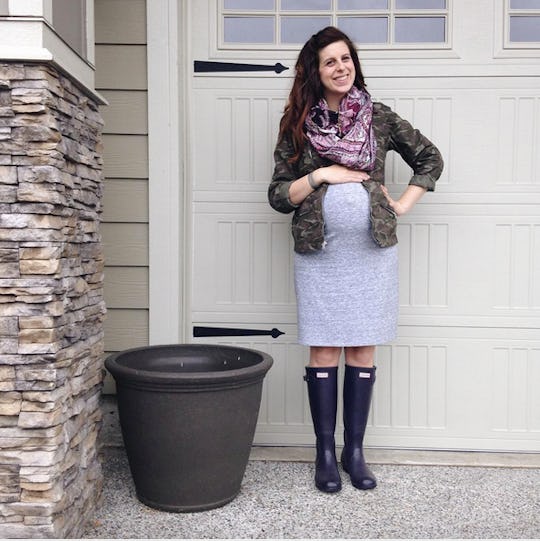 Courtesy of Gretchen Bossio
I'm Not Buying Anything For My Baby, Because What Does An Infant Actually Need?
Yesterday I strolled through Target with my two kids. We gathered groceries and I stopped by the maternity clearance rack. We moved on to the toy section for a browse, then onto my daughter's favorite: the baby section. She often asks to purchase a cute top or toy for her newest sibling, a baby due this winter, but I always remind her that our house is full, we already have everything we need to welcome a new baby. We aren't buying anything more. Yep, that's right, we're not buying much for our new baby. As this sweet little someone grows in my womb, his place in our family grows in my heart, too, but a seat at the table and in his mom's heart doesn't mean I'm growing the amount of baby stuff around here. Nope! The purchases for this baby have been few and far between. And I'm just fine with with that.
I have been pregnant twice before. First, when I was expecting my daughter, and then again, with my son. So yeah, you could say I'm approaching the whole process a bit unconventionally. You might even say it's a bit crazy. But I'm not buying a thing!
Instead of filling a registry and gathering mountains of new baby clothes, I'm on a different sort of mission this time around — one that includes getting rid of practically everything. I'm sorting and purging every corner of our home, donating and throwing away the baby things from my daughter's and my son's infant days. Little ones don't need much at all, and as I strive for simplicity in other parts of my life, I'm finding this ambition overflowing into my baby prep as well.
Of course, it helps that I have one little boy already, which takes care of clothing needs — the infant, baby, and toddler clothes that we bought and washed for him we'll be able to use again for our third. But even these pieces, I'm cutting back on. No one needs 24 onesies; not even an extremely messy baby! As I wind my way through the baby section at Target and browse Pinterest, I find myself more and more alarmed at all the stuff available to new parents. It's no wonder we're convinced baby bathtubs and specialty toiletries are required to become proper parents. When they're everywhere, it's easier to think you actually need this stuff. But after two kids, bathing with my baby or taking sink baths is much easier, and Castille soap works for our entire family, eliminating the need for 15 different bottles lining our bathroom walls.
There are essentials when it comes to baby items, but there are endless non-essentials new and even veteran parents are roped into thinking they need. Instead of falling prey to the buy more, spend more lifestyle, I'm following a little KonMari: holding each baby item I already own and asking myself: Is this practical? Can I use something else I already have to take its place? Do I really love it? Does it bring me joy? Twenty-four onesies is overkill. They don't bring me joy. Rather, they made me feel overwhelmed. With 24 onesies, I need more storage space. And more onesies means more laundry.
With my first baby, I filled a registry with cloth diapers, clothes, toys and all the recommended items that Target and Babies 'R' Us said I needed. I mean, they know best, right? Turns out, they didn't. Truly assessing what I needed helped me when I was pregnant the second time. After my first, I learned that baby wash cloths work the same as regular ones, and the same applied to towels, combs, and lotion. By not searching high and low for more products and more clothes, I'm spending my time evaluating the true necessities and choosing carefully what has the honor of staying and being put to use. Gone are both the playard and the swing — we never used them anyway. The baby wrap and high chair are staying, as are the co-sleeper and the crib. Clothes, much like the 24 onesies, have taken a drastic downturn, as have toys. A 6-week-old baby has no need for toys, and I have no need for the clutter.
I'm trying to focus on simplicity. Babies need "toys" like eye contact, song singing, tummy time, classical music, and mirrors. Rather than spend money on plastic toys to fill a basket in the corner of my living room, I'm spending the money on resources to help him grow and learn. I've loved reading The Wonder Weeks and The Baby Book to expand my knowledge on infant and toddler development. Those books and others have served our family 10 times more than a cute giraffe or noisy baby drum set ever could.
I will confess, though, that I did buy a new ring sling, more for me than anyone else. I loved the Olympus pattern by Tekhni and see myself using it often. Beyond that, I snatched two winter beanies from the farmer's market for my little man since he's due around Christmas and will be sporting winter wear much more than his brother (who was born in August). And a car seat, of course, since his sister and brother obviously can't hand theirs down while they're still in use. Other than that, baby items have been leaving my house at an alarmingly high rate.
In the era of tiny houses and "less is more" mentality, it suits my family to carefully consider exactly what's necessary. Things don't often make us happy; and on the rare occasion they do, it's only for a small amount of time. Relationships make us happy, memories do too. I'm realizing that simplicity makes me happiest. And when I'm happier, my husband and children are too. Less stuff means less cleaning, less organizing, and less clutter. Can I get an amen?