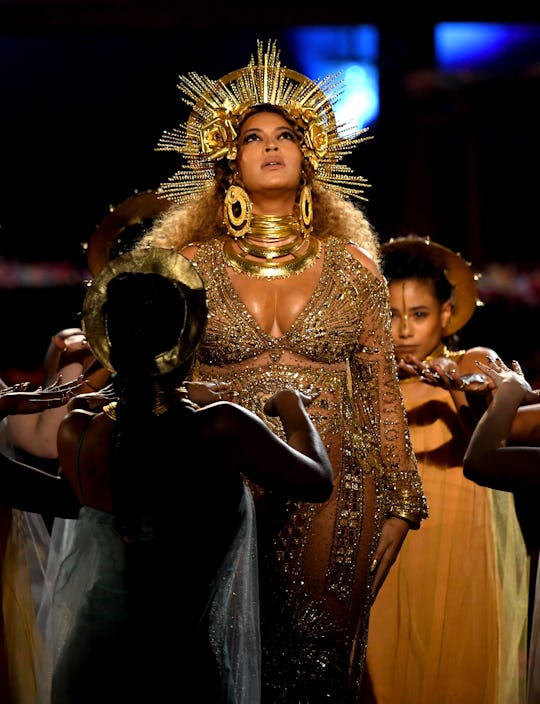 Kevin Winter/Getty Images Entertainment/Getty Images
Important Symbols In Beyonce's Twin Photo You May Have Missed
As a gift for making it through another week of Russian collusion drama and Donald Trump Jr. emails, Beyoncé blessed (and then broke) the internet with the first picture of her newly arrived twins, Sir Carter and Rumi. While it's hard to get past the beautiful mom of three or the painfully adorable faces of her twins, there are more than a few important symbols in Beyonce's twin photos that you may have missed.
According to the caption on Queen Bey's newest Instagram post, officially debuting the twins for the very first time, Sir Carter and Rumi were born on June 14, 2017. (Or maybe June 13. She posted when it was still July 13 on the West Coast, where she has been living, but already July 14 on the East Coast, saying the twins were "1 month today." The mystery continues.) Much like in Beyoncé's pregnancy announcement, she stands in in front of a beautiful floral backdrop, a veil flowing behind her, with a purple and floral-looking open, flowing, floor-length shawl. Channeling what can only be described as a 2017 version of Jesus' mother, the Virgin Mary, the intricacies and details of this one-of-a-kind, long-awaited reveal has more than a few small symbols and hidden meanings any fan of Beyoncé should not only notice, but read into. Our Queen is telling us something, dear reader, so it's time we listen up.
According to the site Bourncreative.com, the color purple "combines the calm stability of blue and the fierce energy of red." While the color is also a symbol of royalty, it's clear that Beyoncé is making a subtle but powerful nod to her oldest daughter and firstborn, Blue Ivy. The site goes on to say that, "Purple also represents meanings of wealth, extravagance, creativity, wisdom, dignity, grandeur, devotion, peace, pride, mystery, independence, and magic." If you're wondering what Beyoncé and her husband, JAY-Z, already think of their twins, you have your answer in the color of the shawl Bey chose to wear when revealing them to the world.
The color purple is also, according to the same site, "a rare color in nature." You know, much like twins themselves. According to What To Expect, only 4 percent of the babies in the United States are born in sets of two or more. In 2011, twins were born at a rate of 16.9 per 1,000, per the same site. So just like the color purple itself, Sir Carter and Rumi are as rare as their mother's talent, grace, and poise.
The shade of purple Beyoncé chose to wear tells an underlying story as well. According to Bourncreative.com, "Light purple or lavender is a feminine, graceful, elegant color that has long been associated with refined, wealthy women." Yes, the mother of three is talking about herself, my friends.
Of course, there is also the blue veil to consider. Much like her pregnancy announcement, in which Beyoncé covered her face with a see-through green veil, a veil has a specific meaning. In religion, "you veil something because it is powerful and the veil is to protect those outside of it from the power beneath it." A blue veil, however, can mean a "symbol of women's piety, sacrifice, and observance." As a mother to three children, two being 1-month-old twins, it's safe to assume that outside of the already incredible sacrifices Bey has made in the name of her career and achieving her personal and professional goals, Beyoncé knows all about the sacrifice a woman must go through — in mind, body, and spirit — to grow, birth, and sustain human life.
Choosing the color blue could, again, be Beyoncé's way of incorporating her daughter Blue Ivy into the reveal itself. And, according to Colormatters.com, bright blue means cleanliness, strength, dependability, and coolness. The site goes on to say, "The origin of these meanings arise from the qualities of the ocean and inland waters, most of which are more tangible." Light blue, on the other hand, is said to stand for peace, serenity, ethereal, spiritual, and infinity. Looking at the twin reveal, one can easily assume that Beyoncé is, indeed, at peace.
Comparisons between Blue Ivy's reveal in 2012 and Sir Carter and Rumi's reveal are already alive and well, but this isn't a mom playing favorites. No, this is a ridiculously talented woman speaking to her fans through subtle symbols and hidden meanings, controlling her own narrative the only way she knows how: like a boss.