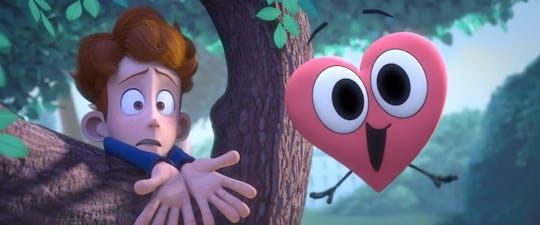 Beth David and Esteban Bravo
'In A Heartbeat' Is The Animated Film You Need To See
Every so often the universe delivers something unimaginably lovely – something sweet and hopeful that can reverse a little of the day to day negativity that grinds you down. But in the case of In A Heartbeat, a short film making the rounds after premiering online on Monday July 31, the universe isn't solely responsible. Created by Beth David and Esteban Bravo thanks to a Kickstarter campaign, the animated short In A Heartbeat will warm your heart and lift your spirits.
In the dialogue-free short, a young boy named Sherwin watches dreamily from a distance as his crush Jonathan walks to school, oblivious to the attention until Sherwin's overactive heart bursts out of his chest to chase the other boy down. Sherwin immediately panics not only because his feelings might be revealed to Jonathan, but because his heart could out him to everyone at school.
He attempts to recapture his adorably anthropomorphized heart, which wants nothing more than to be as close to Jonathan as possible, to Jonathan's complete confusion. However, once Sherwin's heart finally makes contact, the secret's out. While that could easily be a path to angst (and is, for a moment), it ends up bringing the two boys closer together.
It's immediately obvious what makes this short so special: it tells a story about young gay kids, something you rarely get to see in any medium, let alone animation. It's also a positive story, not a painful one. Though it has its moments of tension and anxiety, they're relatable feelings for anyone who has been through the same thing. In A Heartbeat takes the universal feeling of having a crush and gives it an added layer that makes it more specific. Sherwin's crush getting out isn't just about what Jonathan will think – it's about what everyone will think. That's sure to resonate with many LGBT viewers.
Providing that representation was part of Bravo and David's motivation for making the film. "There have been a few nods to the LGBTQ community in recent children's programming... but it's very rare that an LGBTQ character is given the spotlight," Bravo told NBC News. "Especially in a medium like animation that is predominantly geared towards children and family."
With ['In a Heartbeat'], we wanted to challenge the preconceived notion that LGBTQ content is not appropriate or suitable for younger audiences. It's an innocent and lighthearted story about a boy and his crush that we hope will resonate with younger people regardless of their background.
In A Heartbeat doesn't just tell a relatable story, it tells one with a happy ending. And the importance of that can't be understated, especially for LGBT viewers. That kind of representation is necessary, and this short film does it beautifully.