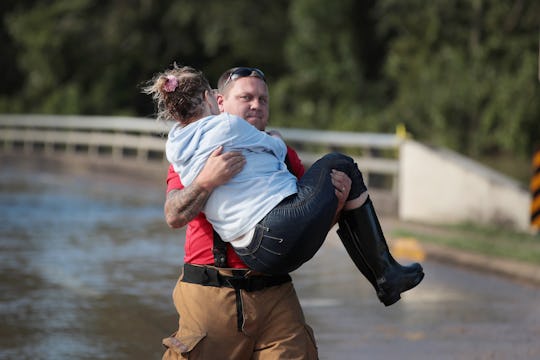 Scott Olson/Getty Images News/Getty Images
In The Wake Of Hurricane Harvey, These Women Are Stranded & Running Out Of Time
It wasn't long after Friday, Aug. 25, that the documentation of Hurricane Harvey's initial devastation circulated the internet. As the Category 4 hurricane made landfall between Port Aransas and Port O'Connor, Texas, with winds reaching 130 mph, people across the country were already asking how they could help those affected by Harvey and the flooding that would soon follow. But while donations to the Red Cross and necessary supplies are being sent, and people from near and far are hitching boats to their cars and traveling great distances to rescue men, women, and children, a large population of women in the greater Houston area are only beginning to experience what will likely be weeks, if not months and potentially years, of hardship. For women with unwanted pregnancies, the already difficult task of procuring a legal abortion in Texas now feels impossible.
Texas' anti-abortion legislation has already shut down a significant number of abortion clinics in the state, but Harvey has sufficiently rendered the remaining clinics in the Houston area either temporarily closed or impossible to reach by the women who need them the most. And as the flood waters recede and the clinics begin to open and receive patients, these women are in danger of being overlooked by a country that's seen 169 anti-abortion bills proposed nationwide since 2017. The women of Texas seeking abortion care have always needed our help, but now they need it more than ever.
Currently, the state of Texas has some of the most anti-choice, anti-abortion laws in the United States. According to the Guttmacher Institute, a woman in Texas must endure a 24-hour waiting period and mandatory, state-directed counseling that includes information designed to discourage her from having an abortion before she can obtain the procedure. She must undergo an ultrasound at least 24 hours before her abortion procedure, and the provider must show and describe the image to the patients. All abortions at and/or after 20 weeks gestation are illegal unless a woman's life is in danger.
These laws — coupled with Targeted Regulation of Abortion Providers (TRAP) laws that "single out the medical practices of doctors who provide abortions and impose on them requirements that are different and more burdensome than those imposed on other medical practices," according to the Center For Reproductive Rights — put an undue cost and unnecessary burden on both the women who are seeking abortion services, and the clinics and doctors that provide them. As a result, abortions clinics across the state of Texas have been closing at appalling rates. According to The Los Angeles Times, more than half of the state's 41 abortion clinics have closed. The Texas Policy Evacuation Project released a study in 2015 that showed between 100,000 and 240,000 women in Texas between the ages of 18 and 49 have tried to induce abortion at home.
But for the women who were forced to cancel and/or reschedule their abortion appointments as a result of Hurricane Harvey and the flooding that followed, anti-abortion legislation has become more than an annoying, costly, and unnecessary burden: it's a potential wall that will keep women from the futures they've chosen for themselves. Romper spoke with Kathy Kleinfeld of Houston Women's Clinic, the largest single-location abortion provider in Texas. While her generator was running because she still did not have power, Kleinfeld worked to prepare the clinic to open its doors once again as she described the unfathomable difficulties these women now face.
"It's been devastating in every way for so many people," Kleinfeld says. "We've been in communication with these patients and, of course, they're definitely in need of our services and still wanting to come in when it's safe to travel."
CNN Money predicted that half a million cars could have been destroyed by Harvey, so transportation will be hard to come by for most in the foreseeable future. As of Monday, according to The Washington Post, the Houston Metro's bus system, three light-rail lines, and paratransit services all remained closed.
"This delay, of course, has caused these patients to advance in the pregnancy because the pregnancy doesn't stop because of a hurricane," Kleinfeld says. "So we're looking at issues with women being further into the pregnancy than they were, and sometimes that will put them into a different type of procedure or the cost may go up as a result of having to wait a week. And it really looks like it's going to be about a week for most patients."
Frances "Poppy" Northcutt, President of the Houston Area Chapter of National Organization for Women (NOW) and of Texas State NOW, explained the financial impact that waiting a week, or longer, will have on women looking to reschedule their abortion procedures. "The price goes up substantially after 12 weeks," Poppy tells Romper via phone. "At 12 weeks it goes from $550 to $850, so you can pretty much guarantee that there are already some women who have been adversely affected."
The women of Texas seeking abortion care have always needed our help, but now they need it more than ever.
The gravity, exhaustion, and tempered anger in Poppy's voice was staggering, especially as she continued. "As far as the 20-week ban, these women are going to have to go to New Mexico or somewhere else now, if they can. That's really going to be their only option if they're that far along. There is Fund Texas Choice, who might be able to help them, and some funding agencies that might be able to help them, but obviously that's the most difficult area of need — where these women are right up against a wall."
According to the Center for Disease Control and Prevention (CDC), "66 percent of legal abortions occur within the first eight weeks of gestation, and 92 percent are performed within the first 13 weeks." The majority of women who seek abortions after 20 weeks, in any state, want their babies, but for a number of reasons spanning from lethal fetal abnormalities to concerns about the health of the mother, make the decision to terminate. Only 1.3 percent of all abortions, according to the CDC, occur after 20 weeks gestation.
The National Abortion Federation (NAF) is one of the aforementioned funding organizations that provides financial need to women who require additional assistance in order to receive the care they need. Vicki Saporta, President and CEO of NAF, spoke to Romper via phone about the additional support the organization is preparing to provide women in the greater Houston area.
We're expecting to have to assist many women with travel arrangements for them to be able to access care. I mean, even within Houston, many of these women won't have a car, and the public transportation system isn't operational at the moment, and even if some of these clinics re-open, it doesn't mean that women are going to be able to get to the clinics. So working with them to make sure that they can reach their clinic, whether it's in the Houston area or out of state, is something that our hotline case managers are doing right now.
The mandatory 24-hour waiting period will also force women to face transportation difficulties twice. "And then there's the 24-hour waiting period," Vicki explains, "So women have to go to the clinic not once, but twice, through the challenging flood waters. So that has been, and will remain, a problem. It's going to be hard enough to get to the clinic once, let alone twice."
The Clinic Access Support Network is a free service that helps women get rides to abortion clinics when they have transportation issues, powered by volunteers and donations. The support network does hope to, one day, provide child care services as well, an additional need for the women of Texas before and after Hurricane Harvey hit. According to the Guttmacher Institute, 59 percent of women who obtain abortions are already mothers, and with schools, daycare facilities, and other support networks closed as a result of the flooding, finding and/or paying for child care services will prove exponentially more difficult in the coming weeks, and perhaps months, following the storm.
"A lot of these women need to return to work," Kleinfeld explains. "They've had a loss of income, so they then may delay seeking services for the pregnancy until they can get things settled financially. Their employers may be asking them to come back to work and to work longer hours because the businesses have been closed. There are all sorts of factors, so the fall out of his hurricane is going to continue for weeks, and possibly months, to come."
A local and vital organization working tirelessly to help women facing the financial stress of procuring abortion care is The Lilith Fund, a nonprofit that "supports the right of all Texans to make their own reproductive choices, regardless of income." The Lilith Fund works with three clinics in the area: Texas Ambulatory Surgical Center, Houston's Women's Clinic, and Planned Parenthood. The nonprofit receives more than 6,000 callers every year, and that number has steadily increased as more abortion restrictions have passed and more clinics have shut down. Romper spoke to Amanda Williams of The Lilith Fund via phone while she was simultaneously coordinating with women who were unable to receive the abortion care they needed due to the storm.
"A lot has happened since last week," Williams explains. "We got word that clinics began to close on Friday. We then looked at our intake call log and began to take note of how many appointments were scheduled during the time frame of the storm, just trying to figure out what all those women were going to do. Our priority was to get an understanding of when the clinics were going to be open again."
But for many women in the Houston area at the time of the storm, whether or not the clinics even stayed open wouldn't have necessarily mattered. "Many of our callers are predominately low income, women of color, and mothers living in communities that are often hit hardest in natural disasters," Williams continues. "So even if the clinics were to remain open, they're already facing so many additional barriers due to the storm. It really piles up."
The need will only increase as Houston works to rebuild and clinics re-open. "The consequential affect will start coming in the next few weeks," Poppy explains, "and a lot of added pressure revolves around the uncertainty of our state laws. There are some additional TRAP laws that go into affect on Sept. 1. The clinics were already trying to figure out what rules they were going to operate under — and this happens."
Williams mirrored that sentiment, saying that already she has heard from clients who have had to make travel arrangements to different cities in order to obtain the care they need. "One client was close to the 20-week limit," Williams explains. "She had an appointment in Houston, and now has to go to Dallas."
Poppy's resolve was particularly inspiring as she explained a situation involving a woman who couldn't make it to her abortion appointment the day after Hurricane Harvey hit. "I just got off the phone with a young woman who had scheduled her appointment this past Saturday," says Poppy. "We had lined up funding for her because she's very marginalized, and she planned to go in for the procedure the day the clinic opened, but now she's short on funds. She had to buy water and other supplies to survive the hurricane. And that is going to be just the tip of the iceberg."
"Many of our callers are predominately low income, women of color, and mothers living in communities that are often hit hardest in natural disasters ... So even if the clinics were to remain open, they're already facing so many additional barriers due to the storm. It really piles up."
For Poppy, and the women like her, this is a personal quest to help as many women as possible not only in Harvey's wake, but always. When asked about the number of women who weren't able to receive abortion services at Houston Women's Clinic, Kleinfeld replies, "It really does depend on the day, but for me, if you're that one woman who has been paralyzed by this hurricane and flooding — if it impacts just one woman — it's terrible."
"I'm 74 years old," Poppy says. "So I was around before Roe v. Wade. One of my very best friends almost died because she had an illegal abortion. For me, this is personal."
"We're doing what we can," Kleinfeld says, moments before getting off the phone to continue preparing Houston Women's Clinic for reopening, with no power and a backup generator to aid her. It's time we do what we can, too.
If you would like to assist these women with procedure and/or transportation costs, please donate to The Lilith Fund's emergency fund for Harvey survivors, NAF's Dr. Tiller Patient Assistance Fund, Fund Texas Choice, the Clinic Access Support Network, and visit the Houston Area Chapter of NOW's Facebook page.