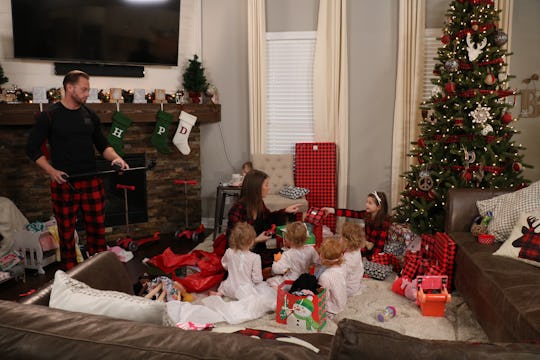 TLC
The Busby Quints' Fear Of Santa On 'OutDaughtered' Is Totally Relatable
It's Christmastime in August! Though half the world is currently fanning themselves and cursing the humidity, the Busby family is celebrating Christmas on OutDaughtered. And they do it in their own very particular way: as this OutDaughtered exclusive clip shows, the quints are terrified of Santa Claus instead of being delighted by his sudden arrival. And that's something plenty of parents will be able to relate to.
Though being plopped down on Santa's lap for a picture is a Christmas tradition, there are lots of kids who react with terror instead of joy. And even though it ruins a photo op, it's actually a good thing. Margaret Richards, PhD, a child psychologist at the Cleveland Clinic Children's Hospital, told ABC News that it was normal for children to be uncomfortable around oddly-dressed strangers, especially since parents often emphasis caution when it comes to unknown adults. Meeting Santa can be shocking or stressful for kids for that reason.
And it certainly seems to be for the Busby quints, Ava, Riley, Olivia, Parker, and Hazel. But that wasn't always the case. When the girls were babies, they were simply confused by Santa but not bothered. And in the beginning of the clip, they're even excited to meet Santa. They finally know and understand who he is, so they can't wait to make the big introduction.
However, that changes once they arrive at the photo studio. Though some of the quints were eager to see Santa, actually getting close to him proves to be intimidating. Hazel is the first to react with trepidation, ducking behind her parents to avoid the inevitable. Even big sister Blayke showing excitement doesn't help, nor does Adam and Danielle sitting down with the girls. The mood has shifted from good cheer to pure fright.
"They love Santa, they love Santa in a book, and they love Santa from afar," Danielle says in a confessional segment. "But apparently if you have to go sit by Santa, he's like the scariest person in the world." Proximity is definitely a problem: the closer the girls get to the bench where Santa's sitting, the more their anxiety ramps up. The photoshoot soon devolves into chaos. "I don't know what Santa did, but it's horrible!" Danielle continues. "Like, what's so scary?"
In their adorable red flannel nightgowns with bows, the quints screech and cry. Hazel declares that she has to get away. One sister crawls directly out of Blayke's arms as soon as she can. Parker climbs over Danielle's body to avoid being anywhere near Santa. Danielle and Adam aren't ultimately bothered, though: Danielle knows this will just make the photo more memorable.
And it definitely would be memorable: as Broadly pointed out, the internet is packed with pictures of kids shrieking their heads off while sitting with Santa. The publication also had another theory for what was so scary, courtesy of parent coach and licensed clinical social worker Mercedes Samudio. Her explanation could account for why the quints were cool with Santa in the past but not so accepting of him now. Samudio said:
Children are developing their sense of reality during the age that many parents begin to expose them to the idea of Santa Claus, which means that while the child is excited about the possibility of a character that will bring them their most wanted toys, they are anxious because this same character has the ability to see what they do and judge them.
As kids got older, they could better understand abstract concepts, as well as differentiate between fact and fiction. It will all calm down for the Busby girls as years go by, but until then parents can relate to the struggle when they tune in to the episode. OutDaughtered airs every Tuesday on TLC.