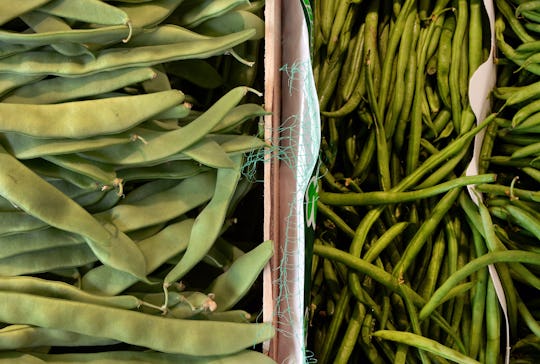 PIERRE ANDRIEU/AFP/Getty Images
In What States Is The Listeria Outbreak Worst? Illnesses Were Only Reported In Three
The massive recall issued by CRF Frozen Foods has the country thinking about how to stay safe from listeria. Hundreds of potentially contaminated products were pulled from shelves across the country earlier this month. Though the Centers for Disease Control and Prevention (CDC) reported that the frozen food was sold in all 50 states and four Canadian provinces, in what states is the listeria outbreak worst? There actually haven't been many illnesses reported.
CRF Frozen Foods' April 23 recall involved only 15 kinds of frozen vegetables, CNN reported. Ultimately, the recall expanded on May 3 to include more than 350 products. The company discovered that at least some products "manufactured or processed" in Pasco, Washington, contained Listeria monocytogenes and put consumers at risk for illness. To be safe, the company took products from 42 brands out of stores.
Though the recall had broad reach, there are few reported infections. The state with the highest number of listeriosis cases linked to frozen vegetables is California, according to the CDC's Case Count Map; six people became ill. Two other states reported one listeria infection each: Maryland and Washington. Though two people diagnosed with listeriosis eventually died, CNN reported that neither death was related to the infection.
Though stores no longer sell the products in question, it is possible that families still have contaminated frozen food at home. The recall applies to food produced as early as May 1, 2014, according to the U.S. Food and Drug Administration (FDA). Anyone who purchased frozen food from one of the brands involved in the recall can visit the FDA website to find out exactly which products are included.
Listeriosis doesn't always manifest as a serious illness; its symptoms can often look like those of other infections. There are signs of listeria infection to watch for that warrant a trip to the doctor, according to the CDC:
If you become very sick with fever and muscle aches or stiff neck, or if you develop fever and chills while pregnant, consult your doctor immediately. A blood or spinal fluid test (to look for the bacteria) will show if you have listeriosis.
Symptoms of listeriosis vary based on the severity of the infection, the Mayo Clinic reported. Milder manifestations of illness include "fever, muscle aches, nausea, and diarrhea." If listeria reaches the nervous system, the list of potential symptoms expands to include "headache, stiff neck, confusion or changes in alertness, loss of balance, and convulsions." Pregnant women, "adults 65 years and older," and individuals who have weakened immune systems are at greatest risk for serious illness from listeria, according to the CDC. A listeria infection can also endanger the life of a fetus. Members of those more vulnerable groups should see a doctor at the first sign of symptoms (or maybe if they've even consumed affected food).
It's definitely important to do everything possible to avoid eating food contaminated with listeria. But even with a substantial, widespread recall in progress, consumers may be reassured by the knowledge that few people have actually gotten sick from eating frozen vegetables so far.