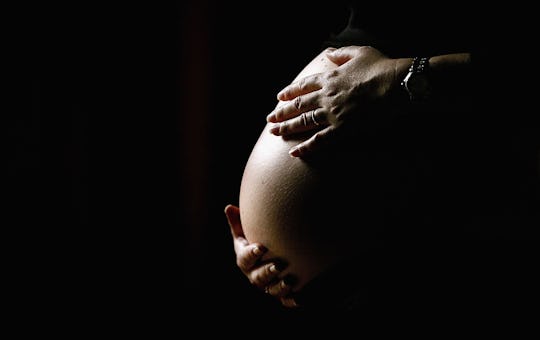 Ian Waldie/Getty Images News/Getty Images
Indian Government's Advice For Pregnant Women Isn't Good
With all the pregnancy advice and restrictions out there, it can be hard to keep track of which ones are medically proven to be safe and which ones are just ludicrous. Something doctors say falls into the latter category is the Indian government telling pregnant women to avoid meat, eggs, and "lusty thoughts," according to ABC News. In a country with already one of the highest rates of maternal mortality, according to UNICEF, medical experts are urging expectant mothers not to listen to this illogical and even dangerous advice.
"The government is doling out unscientific and irrational advice, instead of ensuring that poor pregnant women get to eat a nutritious, high-protein diet," gynecologist Arun Gadre, who works in the rural areas of India, told ABC News of the new recommendations. Gadre said:
This is a national shame. If the calories of expectant mothers are further reduced by asking them to shun meat and eggs, this situation will only worsen. This is absurd advice to be giving to pregnant women in a country like India.
As the Associated Press reported, the government-issued booklet called Mother and Child Care is the "latest push for vegetarianism by Prime Minister Narendra Modi's Hindu-nationalist government."
While a vegetarian diet can be safe and nutritionally adequate during pregnancy, adding more restrictions could only compound a cycle of malnutrition problems in India, where many people already struggle to live on less than $2 a day, according to The World Bank.
According to UNICEF, one-third of women of reproductive age in India are undernourished, which often leads to passing on nutrition deficits to babies, who are often then born with low birth weight. To make matters worse, women often give portions of their meals to "their hungry children or husband," the Associated Press reported.
"This kind of advice is detrimental to women's health," Amit Sengupta, a physician and health care activist, told The Guardian.
The booklet also says pregnant women should "detach themselves from desire, anger, attachment, hatredness and lust," the Hindustan Times reported. According to the Associated Press, the booklet also says expectant mothers should "shun 'impure thoughts' and look at pictures of beautiful babies to benefit the fetus."
While it did not advise specifically against having sex, it's an oppressive recommendation and backward logic to ask pregnant women to avoid all thoughts of desire or lust. In fact, there are several benefits to having sex while pregnant, such as increased endorphin levels and lower blood pressure. Gynecologist and obstetrician Malavika Sabharwal told the Hindustan Times:
Pregnant women need to be happy and instead of being prescriptive about what they should think and do to be happy, we must urge them to do things they enjoy and strongly advise the family be to supportive.
In a country where improving maternal health care has been a challenge for various socioeconomic and cultural reasons, it's evident that medical experts don't want pregnant women in India to be restricted from more necessities that could only worsen an already troubling situation.