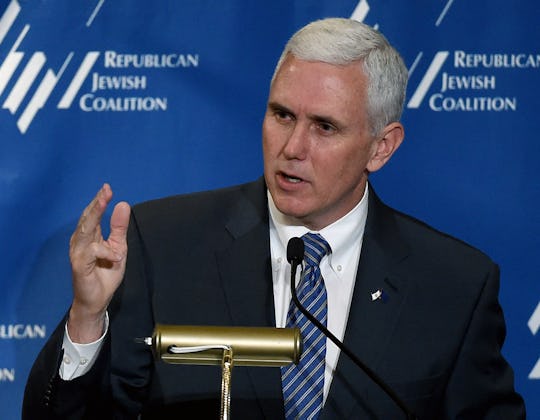 Ethan Miller/Getty Images News/Getty Images
Indiana's Abortion Ban Is Unsafe For Women, Doctors Firmly Say
On Thursday, Indiana Gov. Mike Pence signed a bill that could block women from getting abortions based on their motivations, financial status, and medical history. It's an expansive and devastating bill, and according to the medical community, Indiana's abortion ban is unsafe for women. But, of course, this isn't exactly new news.
Now that the bill has passed through the state legislature and has Pence's stamp of approval, it is set to go into effect in July. But why is it unsafe? First, it legislates a number of requirements that would make the procedure exponentially more expensive. For example, women would be required to arrange a funeral or cremation for the fetus, no matter its stage of development. Second, like Texas' House Bill 2, it creates a lot of red tape for abortion providers. But unlike Texas' similarly harmful bill, which requires abortion clinics to jump through impossibly high hoops, this one also requires women to jump through hoops to get the care they may direly need.
According to the Chicago Tribune, though women will be allowed abortions if their child has a lethal disorder, they could be denied an abortion if the child is projected to have any other developmental disability. The bill claims that aborting a child because of that prognosis is a form of discrimination, like aborting a child because of its sex or race. What's more: a woman and her doctor could be tried and charged if they disobey this bill.
Brownsyne Tucker-Edmonds, an obstetrician-gynecologist in Indianapolis, spoke to The Washington Post about the bill:
It will require a woman, during one of the most devastating times in her life after learning of a fetal anomaly, to prolong her pregnancy even if against her wishes, and to potentially assume the greater health risks associated with doing so. [There are] cases in which the risk of death during a full-term pregnancy is more than 14 times higher than for a termination of pregnancy.
In a statement by Planned Parenthood of Indiana and Kentucky (PPINK), the organization called out the bill's consequences. "It is clear the governor is more comfortable practicing medicine without a license than behaving as a responsible lawyer, as he picks and chooses which constitutional rights are appropriate."
The American Congress of Obstetricians and Gynecologists, a nationwide organization of doctors, has also come out against the bill because it encourages women to seek unlicensed abortions and medical care outside of their home state. Hal Lawrence, the chief executive of the group, spoke about those dangers to the Post. "Patients need postpartum or postoperative care," he said. "They need to be counseled for contraception. Discouraging that is highly destructive." In lieu of education and care, this bill promotes fear and thus danger for women.
According to Slate, even some Republican women in the Indiana Congress called the bill too severe. Rep. Sharon Negele, who is anti-abortion, said, "The bill does nothing to save innocent lives. There's no education, there's no funding. It's just penalties." The bill encourages women to hide things from their doctors, and to seek covert care at the moments when they are most at-risk. PPINK has stated that it is seeking to challenge this bill, hopefully before it can go into effect, with the help of the ACLU of Indiana.