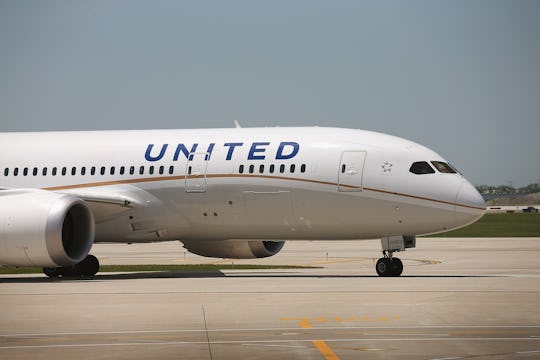 Scott Olson/Getty Images News/Getty Images
Infant's Mother Says He Overheated On Delayed Flight
Summer is officially here, which means many families are embarking on summer vacations all across the country. As any parent of an infant can tell you, traveling with small children is it's own special kind of adventure, especially when traveling by plane. For one Colorado mother, what should have been a quick trip from Denver to El Paso, Texas, turned into a medical emergency after her 4-month-old infant reportedly overheated while sitting on a delayed United flight. Neither United Airlines nor the mother immediately responded to Romper's requests for comment.
According to The Denver Post, 39-year-old Emily France said she had boarded United Airlines flight 4644 at Denver International Airport approximately a half hour before the flight's scheduled takeoff. The temperature at Denver airport was already 91 degrees before noon on Thursday, according to Weather Underground, and France claims the plane was already stifling when she took her seat with her 4-month-old son, Owen. "There was just hot air coming from the vents," she told The Denver Post. The flight crew said that due to severe weather along their flight route, the aircraft required refueling to accommodate a new flight plan to El Paso, according to France. France claims she and other passengers waited on the tarmac for nearly two hours in the sweltering heat without any air conditioning in the plane.
After placing wet wipes on the baby's neck and on his body to help her son cool down, France said she was allowed to depart the plane for 20 minutes. She said she was called back to her seat for takeoff, but claims the flight was again delayed because of weather issues. France told The Denver Post she stood at the front of the plane near an open door to get some air to help her son cool off, but it didn't appear to be helping. Then she said she tried garbage bags filled with ice provided by the flight crew. France described a particularly harrowing moment that prompted her to request an ambulance for her son, according to The Post:
His whole body flashed red and his eyes rolled back in his head and he was screaming. And then he went limp in my arms. It was the worst moment of my life.
France said it took another 30 minutes for the plane to return to the gate after her initial request for an ambulance. Once the ambulance arrived, her son Owen was taken to Denver Children's Hospital on Thursday and was home with family the following day. According to France, the doctors found no underlying medical conditions, but that her son had been affected by the heat, she told The Post.
According to air traffic control audio obtained by ABC News, the pilot for the plane reported "an infant with shortness of breath," telling air traffic control the plane would return to the gate. United Airlines also told ABC News that it took 16 minutes from the time the ambulance call was made until its arrival at the gate — not the half hour claimed by Owen's mother. Even so, the airline has confirmed the incident in a statement to ABC News, saying:
The pilot returned to the gate as our crew called for paramedics to meet the aircraft. We have reached out to our customer directly and apologized for their experience on this flight. We are actively looking into what happened.
Current federal regulations stipulate how long passengers can wait on a tarmac before they are offered bathroom breaks, beverages, or food. At three hours, airlines must allow passengers to disembark. France told The Post another standard inclusive of extreme temperatures should also be included in federal regulations regarding passenger rights on airplanes. While for now it seems there have been no long term ill effects from the incident, France remains wary. As she told ABC News, "I'm sharing Owen's story in the hopes that this never happens to anyone ever again."