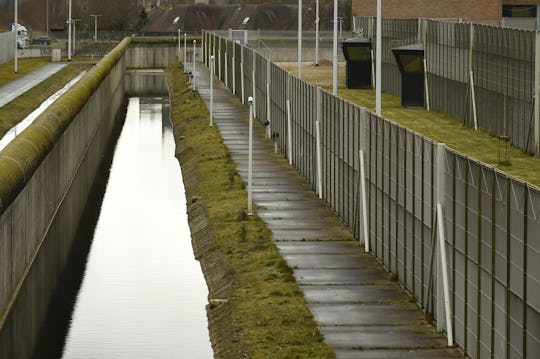 JOHN THYS/AFP/Getty Images
Inmate Alleges Her Baby Died After Corrections Officer Ignored Her Request For Help
A former Milwaukee County Jail inmate is seeking damages against the jail she claims contributed to the death of her baby. The inmate alleged in a claim that her baby died after a correction's officer ignored her request for help when she went into labor.
Shadé Swayzer, 30, together with her lawyer Jason Jankowski, filed a claim against the Milwaukee County Jail intending to sue them, seeking $8.5 million in damages. Swayzer, who was pregnant while she was an inmate at the jail, alleges that corrections officers ignored her request for medical attention when she went into labor at the facility in July, according to the Journal Sentinel.
Requests for comment to the Milwaukee County Jail and Jason Jankowski were not immediately returned.
According to Ms. Swayzer's account, which was reported in TIME, she went into labor around midnight and alerted the corrections officer on duty. She requested medical attention after her water broke, but alleges that her requests were repeatedly ignored by staff. She gave birth in her cell several hours later, and said she received medical attention around 6 a.m. Swayzer claims that the baby was born alive, and that she was able to breastfeed the infant. At some point later in the day, though, (it's unclear at what specific time), the baby was pronounced dead. An autopsy was performed on the infant but the results have not been released.
Swayzer's attorney, Jankowski, told the Journal Sentinel that he made repeated requests for information regarding what happened the night Swayzer went into labor, but he said the Sheriff's office has yet to respond to his requests.
The Milwaukee County Sheriff's Department told NBC Chicago that Swayzer never reported she was in labor, and that the unnamed company that handles medical care for the jail reported Swayzer's baby was stillborn.
The infant was one of four people who have died inside the jail since April, according to the Wisconson Gazette. On Monday, Milwaukee County Sheriff David Clarke Jr. met with president-elect Donald Trump, supposedly about a potential cabinet appointment. Clarke, who is also a frequent contributor on Fox News, was the subject of controversy well before inmates began dying in the Milwaukee prison: Clarke has gone on record as being vehemently against the Black Lives Matter movement, doesn't believe that police brutality exists in the U.S. (but does believe there is a "War on Police"), and believes that American citizens suspected of terrorist actions (including questionable online activities or commentary) should be sent to Guantanamo Bay.
A representative for Clarke and the Sheriff's office told the Journal Sentinel that they would not comment on the Shadé Swayzer case.