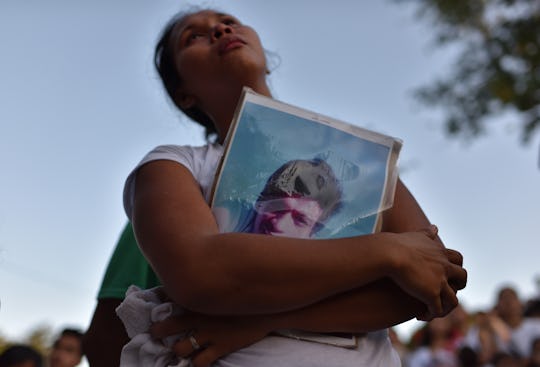 Jes Aznar/Getty Images News/Getty Images
Inside The Philippine Drug War That Donald Trump Just Endorsed
In the Philippines, after he took office in June, President Rodrigo Duterte declared a ruthless war on drugs. Since then, police have killed over 2,000 alleged criminals, and there have been an additional 3,500 unexplained homicides across the country, with people often shot point-blank as they left home for coffee or stopped at intersections. In October, Duterte said that the Philippines could expect another 20,000 or 30,000 more deaths as he attempted to rid the country of drugs. This is the same Philippine drug war that President-elect Donald Trump reportedly endorsed.
Project Tokhang — which means "knock and plead" in Cebuano — is Duterte's governmental anti-drug operation, and his attempt to rid the Philippines of drugs. According to The New York Times, over 35,600 people have been arrested in connection with Project Tokhang, and hundreds of thousands of drug users and sellers have pushed the country's prisons past capacity. Those who resist arrest often end up dead — and many who go willingly seem to end up dead as well, according to witnesses. Police officers' reports often run in direct opposition to the stories told by family members.
In the span of just 35 days, New York Times photojournalist Daniel Berehulak photographed a total of 57 homicide victims across the Philippines. "They are slaughtering us like animals," one man, who had witnessed a young couple killed, told Berehulak.
This also happens to be the war on drugs that Trump has allegedly endorsed, according to The Washington Post. In a statement on Saturday, Duterte said he and Trump had a seven-minute conversation, in which the president-elect reportedly said Duterte was doing things "the right way." "He was wishing me success in my campaign against the drug problem," Duterte said. "I could sense a good rapport, an animated President-elect Trump."
Romper reached out to the Trump transition team for comment, but did not hear back immediately. However, in a statement released by the Trump transition team on Friday, representatives did not confirm or deny Trump's endorsement of Duterte's methods, instead only saying,
President Rodrigo Roa Duterte of the Philippines offered his congratulatory wishes to President-elect Trump. In their conversation, they noted the long history of friendship and cooperation between the two nations, and agreed that the two governments would continue to work together closely on matters of shared interest and concern.
If Trump did indeed endorse Duterte's methods, he's choosing to stray from the reaction Duterte has garnered from most prominent groups: The United States, the International Criminal Court, the United Nations, and the European Parliament have all condemned Duterte's war on drugs as a blatant violation of human rights.
Considering that Duterte has said he'd be "happy to slaughter ... 3 million drug addicts," the fact that Trump agreed to a friendly call with Duterte at all is surprising. But if he actually endorsed Duterte's bloody drug war, that fact should be downright worrisome for Americans — and for any foreigners affected by the country's policies.