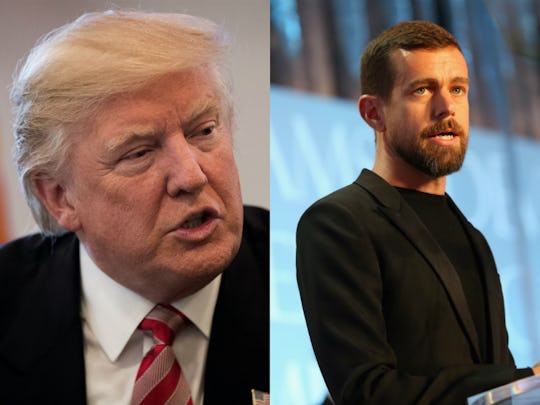 Drew Angerer/Getty Images News/Getty Images; Teresa Kroeger/Getty Images Entertainment/Getty Images
Inside Trump's Emoji War With Twitter & The Invitation Snub That Followed
Everyone knows that President-elect Donald Trump loves Twitter, so it was odd that when he gathered some of tech's biggest names for a meeting on Wednesday, Twitter CEO Jack Dorsey wasn't there. There might be a reason for that. Allegedly, Trump and Twitter had an emoji war during the campaign season and Trump lost. Politico reports that Trump reportedly snubbed Dorsey on Wednesday to get back at him. Romper has reached out to both the Trump transition team and Twitter spokespersons for comment and is awaiting a response.
The Great Emoji War is outlined in a Medium post by Gary Coby who was the director of digital advertising and fundraising for Trump's campaign. As the story goes, the Trump team had been in talks with the social network about creating an emoji hashtag for the debates (that's when an emoji pops up next to a certain hashtag). Trump wanted his supporters to see an emoji of a hand holding a bag of money every time someone tweeted #CrookedHillary.
It was approved by Twitter's creative and legal department until the Trump campaign came back with a different version of it — this time an emoji of a stick figure running away with money. That's when things started to get complicated. According to Coby, there was a lot of back and forth with Twitter about launching them; Eventually, the social network said it wouldn't allow any emoji for the #CrookedHillary hashtag at all, and that Dorsey had nixed the idea at the last minute. At that point, Coby claimed, things got messy.
According to Coby, there was no "legal reason" for Twitter to deny them the emoji; Coby claimed Dorsey had vetoed the whole thing due to his own political leanings. (Neither Twitter nor Dorsey answered Politico's request for comment on the matter, according to the outlet.) Coby wrote in his post, "We told them it was BS and what they were doing with a public platform was incredibly reckless and dangerous. We voiced that it was clearly a political move and telling us otherwise was just insulting." Months later, it appeared Trump and his team were still holding a grudge.
Reportedly, that's why Dorsey wasn't included in the meeting with Apple's Tim Cook, Amazon's Jeff Bezos, Facebook's Sheryl Sandberg, and Tesla's Elon Musk among others, according to Politico. Trump has feuded with some of the attendees before, so it's possible that it was an oversight or a scheduling thing — Twitter and Trump's team have not commented publicly, so we don't know. But Twitter is also the only social network that said it would not give the Trump administration any user data if it started a Muslim registry.
If the allegations are true, it's a bold move by the president-elect to freeze out the CEO of private company, one that Trump and his supporters used extensively throughout the campaign, because he didn't agree with him politically. A private company can do what it wants (which is a good and bad thing all at the same time), but a public servant has to do what's best for the country and giving Twitter a seat at the table could be useful since it has around 67 million American users.
For a president, acting out on personal vendettas isn't a good look. If the rumors are true, hopefully Trump and Twitter can work it out.