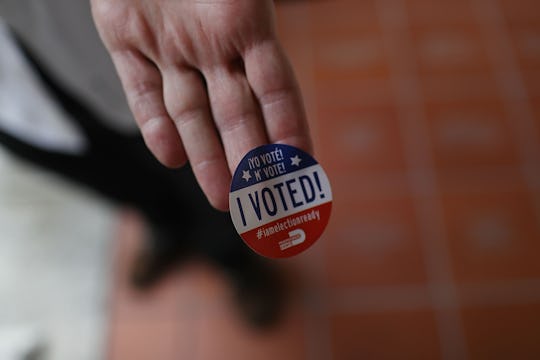 Joe Raedle/Getty Images News/Getty Images
Inspiring #DedicateYourVoteToAWoman Tweets That Will Make You Feel Proud To Cast A Ballot
Election Day is finally here, and there's no denying the fact that it's going to be an emotional, nerve-racking day for many. The 2016 presidential election has been incredibly high-stakes and high-profile, and impassioned voters on both sides are heading to the polls to make sure their votes count. But, for many on social media today, the votes they are casting aren't solely about them. They're also dedicating their votes to women in their lives — mothers, grandmothers, daughters, historical figures, and any other strong women who influenced them on what could turn out to be a history-making day resulting in the country's very first female president. These inspiring #DedicateYourVoteToAWoman tweets will make you proud to cast a ballot, not just for yourself, but for all the women who came before you.
In the days leading up to the election, numerous stories surfaced about women like 101-year-old Jerry Emmett, who cast a ballot for Democratic presidential nominee Hillary Clinton. And the significance of the moment was not lost on her: according to USA Today, Emmett was born before women even had the right to vote, and yet, now, she has cast a ballot for a woman to take the country's top office.
In many ways, the #DedicateYourVoteToAWoman hashtag is an extension of the profound significance this Election Day holds for many women, beyond just being about who they want to see in office. Especially those who are no longer around to see it happen themselves:
Others voted for all of the women who have been treated unfairly during the election (immigrants, Muslims, sexual assault survivors, and women with disabilities, to name a few):
Many other women dedicated their votes to their daughters, nieces, and all the other young girls whose futures will be affected by the election's outcome — as well as all the girls who might soon grow up knowing that they, too, could become president one day.
Many voters chose to honor all of the strong women who came before them who fought for equality and rights:
And then there was this series of tweets, which summed it all up quite nicely:
Of course, this election is about far more than just women, or about voting for a candidate solely because she's female. But the fact that America may be on the verge of having its first female president (especially in the face of a Republican candidate who many have felt has been very anti-women throughout his campaign) makes the day that much more meaningful for countless voters throughout the country who've realized that their votes stand for something much greater than just themselves.