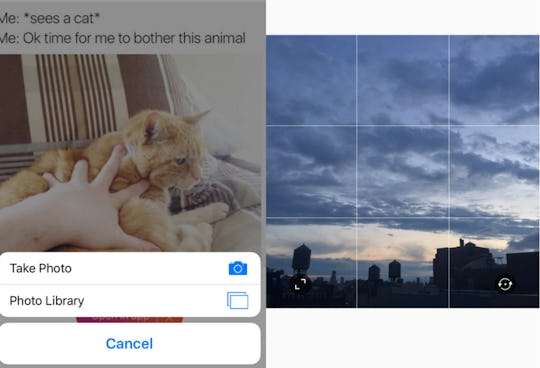 Photo courtesy of Cameron Norsworthy
Instagram Now Lets You Share Posts Without The App
Whether you've got an Android, an iPhone, or another smart phone completely, pretty much anyone can use Instagram. Even if you just have access to a desktop computer, you're able to scroll through others' feeds and "like" away. For those who prefer to use the app on their tablet or phone instead, though, recent developments have made it easier than ever to get your posts up, because now, Instagram lets you share posts without using the app, and the process itself couldn't be simpler.
Here's how it works: Go to your phone's internet browser of choice (I'm a Chrome user myself, but load Safari if you insist). Type in "Instagram.com," sign into your account, and then look for the little camera button in the center of your bottom bar. Tap this, then "Take Photo" or "Photo Library," select your photo (or just take one right then and there if you're that bold/spontaneous), and go ahead and upload it. You better feel pretty confident about your post, because the editing capabilities are pretty limited, and filters are totally off the table. Also be aware that you're able to add a caption, but not a location. Instagram's mobile interface is a bare-bones operation, but it gets the job done.
Sure, there are limits, but it's better than nothing, right? The screencaps below will help illustrate the different steps in this process:
So that's what Instagram mobile looks like. It may prompt you to "Open in app," but that kind of defeats the purpose of everything that we're talking about here.
When you tap the camera button, your upload options appear.
When you select your photo, it shows up in a grid (if you're concerned about your rule of thirds, and all of that). The little diagonal arrows in the bottom left corner shift your image from an automatic, square crop to its full size. There's no dragging and adjusting your crop exactly so, if your cropping needs are specific, you'll have to do that in your camera roll before you open the mobile site. The button on the bottom right rotates your image. Those are all the edits that you're going to get, though; Filters, "lux," and contrast aren't available.
When your image has been selected, cropped, and/or rotated, you can type a caption. No location can be added and you also can't tag people within the image, so you'll just have to settle for tagging their handle in the caption.
So why did Instagram feel the need to add this in? The company told TechCrunch that their mobile site is "a web experience optimized for mobile phones. It's designed to help people have a fuller experience on Instagram no matter what device or network they are on." TechCrunch estimates that the changes help make Instagram more appealing to users in developing nations who "may not have a fast enough cellular network to conveniently download Instagram's app," or may not have the cellular data to keep up with running the app.
If you're in a bind and absolutely need to post your unfiltered photo this instant, Instagram mobile can be your go-to. If the app kills your data or your battery, than signing in via mobile might be a bit more efficient for your resources. Regardless as to why the new tool was developed, Instagram's launch shows that the company's hellbent on expanding their reach, making selfies accessible to pretty much everyone.