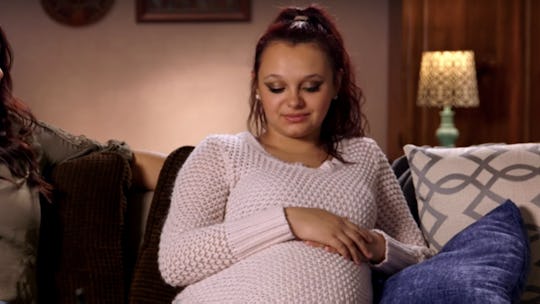 TLC
Photos Of Lexus & Her Baby Prove This 'Unexpected' Star Has An Adorable Family
Have you felt the void left in the reality TV world since the departures of Teen Mom and 16 and Pregnant from MTV? Luckily for you, TLC is here to fix that with its brand new series Unexpected, featuring three teenage mothers. One of the most popular is Lexus and her little family, which she loves to show off on social media. Instagram photos of Lexus and her baby from Unexpected show that she's both a very proud mom, and still a teenage girl. Let's take a look at the life of this very young mother.
In all the previews for the show, Lexus was featured prominently as saying "I don't think it's a bad thing," in reference to being a teenage mom. After all, her mother Kelsey was also just 15 when she was pregnant with Lexus. On top of that, Kelsey's mother (Lexus' grandmother) was also a teen mom. In the show, Kelsey states, "I can relate to everything she's feeling. Because I was 15 and pregnant with her. I've experienced everything she's going through — with her. But I never wanted that for Lexus. Ever." Lexus may not think it's necessarily a bad thing to have a child so young, but the show proves that it's definitely not an easy road to travel.
The show follows Lexus in the final days of her pregnancy, including one false labor that really hammered home the fact that she wasn't ready to become a mother just yet. But when baby Scarlett was finally born, that's when the real trouble started for the family. Everyone knows theoretically that having a baby is a lot of hard work, but that becomes particularly difficult when you yourself are also still technically a child. The series shows Kelsey, Lexus, and Lexus' boyfriend Shayden all struggle with learning how to raise a baby together — to the point of causing heartbreaking tensions within the family.
That being said, the show is not exactly like its predecessors, a fact that Lexus herself was sure to explain in detail. In an interview with Us Weekly, Lexus said, "I think it's more real. Our problems are more realistic than [they are on] Teen Mom and shows like that. I feel like our stories are better. I do!" Obviously, I can't verify the truth of the "realness" of either of the shows, but I can say that Lexus' struggle and learning to grow up while raising a child strikes a very real and emotional chord.
In the same interview, Lexus talked a little bit about what her life with her boyfriend Shayden looks like now that they're parents. It's not as exciting as one might think. "We have a pretty boring life, we just sit at home and don't really do much. But we expected it," she explained. "We knew we'd have to stay home with Scarlett and not be able to do what we wanted to do. I guess we have a normal relationship for teenage parents." While Lexus is still in school Shayden has a full-time job and is allowed to stay with the family on the weekends.
The TLC website features more photos of Lexus, Shayden, and baby Scarlett. The most obvious thing that comes to mind when watching the show is how very young Lexus looks — almost shockingly so. But when scrolling through the images she posts of her tiny daughter, the second thing that comes to mind is that she is a truly loving mom. It may not have been the plan, but I wish nothing but the very best for this young family in the future.
Check out Romper's new video series, Romper's Doula Diaries:
Watch full episodes of Romper's Doula Diaries on Facebook Watch.