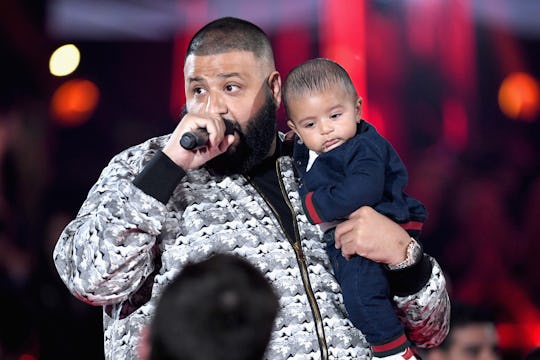 Kevin Winter/Getty Images Entertainment/Getty Images
DJ Khaled's Son Is Winning The Instagram Game
How old were you when you got your Instagram account? 16? Maybe older? If you're like most people, it was probably when you got your first phone, or maybe when your parents finally gave you permission. Or maybe it was later, when you were an adult and decided it was time. Whatever the case, there's a big chance that it wasn't when you were a baby. But, DJ Khaled has never been one to take the conventional route, so his 5-month-old son having his own account isn't too surprising, although these Instagrams of DJ Khaled's son will definitely make you rethink your own social media game.
Little Asahd Tuck Khaled may have only been around since last October, but his Instagram account is already legendary. Six weeks ago, Khaled posted his son's first selfie, and the infant has since been a total trendsetter with his pictures, and their adorable captions. Asahd's account is technically handled by his dad and mom — Khaled's fiancée, Nicole Tuck — although the tone of the Instagram page gives a very distinct I'm a cool baby feeling, as if the little guy handles it all himself (that would be amazing, let's be real).
With Asahd's sweet grin and clever captions, @asahdkhaled is on its way to being one of the most popular accounts on Instagram, and for good reason. Check out some of Asahd's best posts, and just try not to be inspired to up your own social media game:
The Best-Ever "I Woke Up Like This"
It was with a simple, "good morning," that Asahd first greeted the world with his new Instagram account, and honestly, nothing has been the same since. Six weeks have flown by, and the posts have only gotten better.
That Time He Shut Down Ryan Seacrest
"No more interviews today sorry Ryan #grammylife," he joked in the above post, all the while effortlessly rocking a killer tuxedo and pair of sneakers that would have Kanye West jealous.
When He Won With This Hilarious Onesie
And though he be but little, Asahd's Instagram posts are so very fierce, especially when he incorporates clever props, like his "future DJ" shirt he's rocking above. Clearly, Asahd's use of props is master class.
When His Retail Therapy Game Was On-Point
"Daddy ur crazy but I actually was thinking about buying the whole babies r us but it didn't fit in mommys car smh," the above video was captioned, along with the hashtag "#mommyneedsbiggertruck."
When He Was Out There Hustlin'
And, yes, little Asahd is already out here, hustling. Apparently he's been listening to his dad's major keys to success as he's been named as an executive producer for Khaled's new album. A photo of his producer's chair was accompanied by the caption,
Had a long day yesterday.. had to be on set for my first video shoot for the album #grateful I'm executive producing... so many hits... gotta get these videos going!
That Time His Evening Was More Glam Than Yours
Even when he keeps it simple, Asahd is still crushing the social media game. "Ok shows over heading home!" the above photo was captioned, following a night of glitzy revelry.
Keep on keeping on, little Asahd, your Instagram is all the good this world needs right now and you'll definitely be grateful for this in the future.