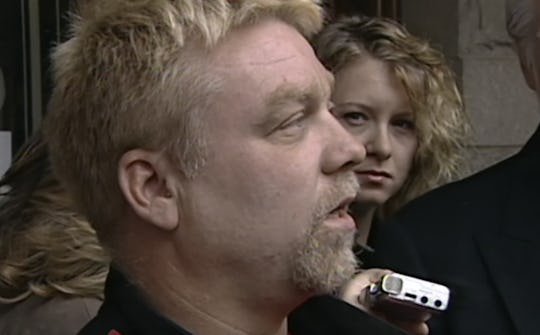 Netflix/screengrab
Investigation Discovery's Steven Avery Documentary Could Answer So Many Of Our 'Making A Murderer' Questions
If you're eager for more episodes of Making a Murderer, the Discovery Channel might be able to help. On Thursday, Investigation Discovery announced a new Steven Avery documentary was in the works — one that would aim to answer some of the Netflix series' lingering questions. Front Page: The Steven Avery Story will give a bit of an epilogue, focusing on what's happened since Avery was convicted of murder.
For those of you who haven't been binge-watching the new true crime favorite, here's a quick overview: In 1985, Manitowoc, Wisconsin resident Steven Avery was convicted of sexual assault; years later, DNA evidence ended up proving that another man had instead committed the crime, but by that point, Avery had spent 18 years in prison, unable to see his wife and kids. After being released from prison, Avery, who was justifiably upset, filed a civil suit against Manitowoc County, but as he was moving forward with the multimillion-dollar case, he was arrested and charged with the murder of photographer Teresa Halbach. In 2005, Avery and nephew Brendan Dassey were convicted for Halbach's murder and sentenced to life in prison.
After the Netflix docu-series Making a Murderer, which covered Avery's story, debuted in December last year, the case was pulled back into the limelight. As evidence mounted on a wider public stage, many wondered if Avery and his nephew had been set up, a claim that has never, it should be noted, been sufficiently proven.
The addicting Netflix series lead to nationwide binge-watching session, followed by virtually endless creation and dissemination of conspiracy theories. According to Vulture writer Margaret Lyons, Making a Murderer tells its story in the same vein as the wildly popular podcast Serial — but in Making a Murderer's case, there was an underlying hopelessness that was, in some ways, more powerful. Lyons explained,
I didn't enjoy Making a Murderer — enjoy makes it sound more pleasant than it really was — I was engulfed, and also crushed, by it. I lied about plans so I could rush home and watch more episodes, though mainlining a show this distressing is not a great way to live.
Part of the reason Making a Murderer is difficult to watch is that there are so many questions left unanswered at the end. The biggest concern is whether Avery and his nephew are serving time for a crime they didn't commit. It's a fear that got more attention recently when a juror from Avery's trial spoke out. According to Vice News, the juror said that the members of the original jury still generally believe Avery is innocent and deserves a new trial. They also claimed that the jurors had feared retaliation from police if they had found Avery not guilty, so they all voted on counts differently in the hope that Avery would be given a new trial based on the conflicting conclusions. (Their plan didn't work.)
Investigation Discovery may not break any ground in the case, but it's possible they'll be able to provide a clearer distillation of the trial. According to Discovery and Avery prosecutor Ken Kratz, there were at least a few key pieces of evidence left out of the Making a Murderer documentary that may have changed the public's perception altogether; Discovery stated that it would be investigating those claims in order to piece together what may have really happened.
If any questions are answered, it may offer peace of mind to theorists who just want justice. Keep those fingers crossed.
Images: Netflix/YouTube screengrab