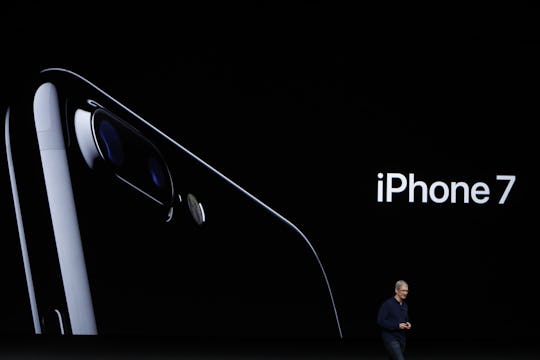 Stephen Lam/Getty Images News/Getty Images
iPhone 7 Is Water Resistant & Parents Everywhere Should Rejoice
Apple finally unveiled the highly anticipated iPhone 7 and an updated version of the Apple Watch on Wednesday. The brand new iPhone comes with a long list of impressive new features that will have people lining up for the hot new item — but there's one feature in particular that has been a long time coming: The iPhone 7 is water resistant. Parents everywhere, rejoice.
The new Apple products were revealed at an event held at the Bill Graham Civic Auditorium in San Francisco. Tim Cook, the Chief Executive Officer of Apple Inc., kicked off the big annual iPhone reveal by teaming up with the The Late Late Show's James Corden for a round of Carpool Karaoke. When Cook arrived on stage, he jumped right into talking about the new and improved iPhone and Apple Watch. He proudly announced that the new product is "the best iphone we have ever created" before revealing the official name was, indeed, the iPhone 7.
The iPhone 7 is certainly a departure from previous installments of the outrageously popular device. Apple has sold over 1 billion iPhones and will certainly continue this streak once people learn about the updates available on the 7. Parents of small children will certainly want to get their hands on the update simply because it's waterproof. The peace of mind knowing your toddler isn't going to break your phone by dropping it in a puddle or spilling their milk all over it might be worth spending the money for a new phone.
Making the iPhone 7 water-resistant isn't the only addition to the ever-evolving Apple product. For those who are so over the rose gold color, Apple announced the 7 will be available in a cool, new "jet black" option. The new black color is high gloss and will be a fun departure from the standard silver and white of iPhone's past. If that's not your style, though, don't worry. There's a second black color option for the 7. Phil Schiller, Senior Vice President of Worldwide Marketing at Apple Inc., joked around as they revealed the second option, saying "We call it — black."
In a somewhat controversial move, Apple revealed the new iPhone will not contain a head phone jack. Instead of using traditional headphones, the iPhone 7 will require Lightning or Bluetooth headphones. A pair of Lightning headphones will be included when purchasing an iPhone 7 or iPhone 7 plus. The lack of headphone jack is a big a change and change can be hard, especially when Lightning and Bluetooth headphones are more expensive than regular headphones. The water-resistant capabilities, hopefully, make the big leap to wireless headphones easier for iPhone users.