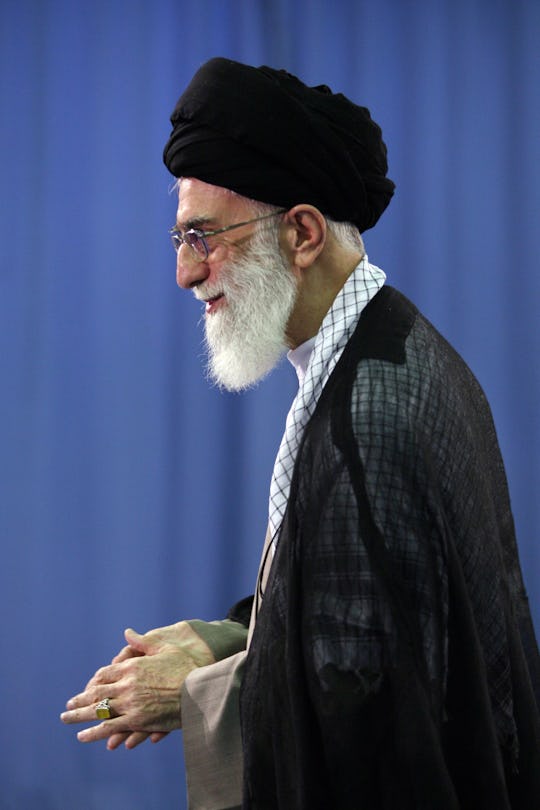 Majid/Getty Images News/Getty Images
Iran Responds To Travel Ban With Brutal Sarcasm
While it may seem like old news to us here in the United States, President Trump's attempted travel ban is still experiencing lasting consequences worldwide. The executive order, issued Jan 27. and aptly named "Protecting the Nation from Foreign Terrorist Entry into the United States," was put into immediate effect, halting entry into the United States by hundreds of people, including children and family members of American citizens. However, the order was widely contested, and in fact, is currently on hold due to a large number of courts and judges that are challenging Trump's ban. Now, in the midst of cabinet confirmations and the possible closure of the EPA, Iran has responded to the travel ban with harsh sarcasm from supreme leader Ali Khamenei — and (possibly) a threat.
Update: In an email statement to Romper on Tuesday night, addressing reports of a Safir rocket being removed from an Iranian launchpad and the recent ballistic missile launch, a State Department official wrote: "[...] Iran's launch was highly provocative. Given the multiple, interrelated conflicts in the Middle East today, such launches — accompanied by Iran's strident rhetoric — undermine regional stability and threaten multiple countries, including close allies of the United States. [...]"
As one of the seven majority-Muslim countries affected by Trump's executive order, Iran's response isn't exactly unexpected, but it is a little worrisome. Notably, Iran is — according to its constitution — an Islamic republic, ruled by a Supreme Leader, or Grand Ayatollah (Khamenei). In 1979, the Iranian Revolution struck, in which the U.S.-supported leader was overthrown and eventually replaced with Grand Ayatollah Ruhollah Khamenei, who had lead the revolution for over a year.
According to The Washington Post, Khamenei was brutally sarcastic in a speech delivered to members of Iran's military on Tuesday, saying, "We actually thank this new president! We thank him, because he made it easier for us to reveal the real face of the United States."
In a transcript of the speech, which was posted to Khamenei's website, the leader goes on to say,
Trump says fear me! No. The Iranian nation will respond to your comments with a demonstration on the 10th of February: they will show others what kind of stance the nation of Iran takes when threatened.
While Khamenei did not state what kind of "demonstration" would be taking place, or where it would happen, this veiled threat is definitely something of which to take note.
According to a report by Fox News, Iran has also reportedly "removed a powerful missile from a launchpad east of Tehran within the past few days," causing confusion as to whether or not Khamenei's claims of a "demonstration" should be taken more seriously. (The State Department did not immediately respond to Romper's request for comment.) The move came on the heels of an earlier ballistic missile test launch on Jan. 29, which may or may not have violated it's nuclear deal with the United States and a U.N. Security Council resolution, according to NPR.
Trump and his administration have no apparent qualms about voicing their feelings toward Iran, with Press Secretary Sean Spicer stating at a press conference Tuesday, "I think Iran is kidding itself if they don't realize there is a new president in town."