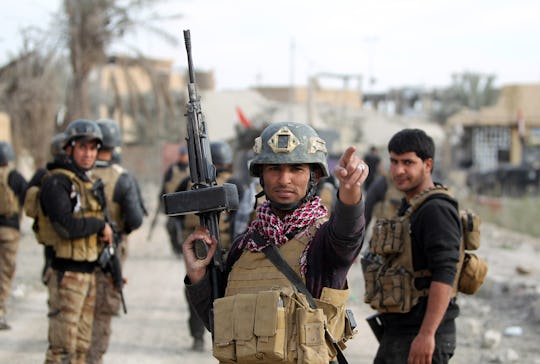 Iraqi Forces Take Ramadi From ISIS & It Will Seriously Affect The Terrorist Group's Strategy
Military officials in Iraq announced Monday that Iraqi troops took control of Ramadi from ISIS after losing control of the city to the extremist group back in May, according to CNN. After a week-long battle, Iraqi forces succeeded in liberating the city, raising the national flag over the government complex to show their victory.
According to the New York Times, Iraqi military commander Maj. Gen. Ismail al-Mahlawi said that pockets of resistance still remain in the city — mostly in outskirt areas that were first captured by ISIS in April before a complete takeover of the city in May — but officials no longer consider them to be a threat. Their primary task now is to clear the government complex of explosives, as the area has been rigged with "more than 300 explosive devices," according to the Agence France-Presse.
The U.S.-led coalition that has been launching airstrikes on ISIS targets congratulated the Iraqi military on their victory. Coalition spokesman Col. Steve Warren said regaining control of Ramadi is no small feat, according to CNN:
The clearance of the government center is a significant accomplishment and is the result of many months of hard work by the Iraqi Army, the Counter Terrorism Service, the Iraqi Air Force, local and federal police and tribal fighters.
So what does this victory mean for the continued fight against the Islamic State? The liberation of Ramadi is a big loss for ISIS, with the New York Times reporting that it is "the most significant in a string of recent defeats for the Islamic State, which has occupied a large stretch of Iraq and Syria since the middle of last year."
The city was one of five cities of particular importance to ISIS, along with Mosul, Fallujah and Baghdad in Iraq, and Raqqa in Syria. According to the Times, taking back Ramadi will also make it easier to push ISIS out of Fallujah, as they can now cut off supply lines to the city.
Brig. Gen. Yahya Rasoul, a spokesman for the Iraqi military, told CNN that the victory in Ramadi is just the beginning of further liberation of ISIS-held cities, promising that Iraq "will liberate all the other places like we liberated Juif al Nasser and Tikrit and Baiji and other areas."
Image: Ahmad Al-Rubaye/AFP/Getty Images