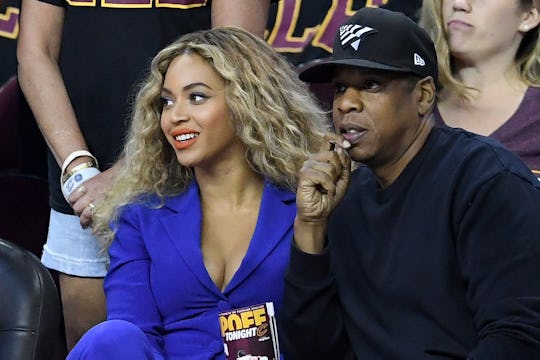 Jason Miller/Getty Images Entertainment/Getty Images
Is '4:44' A Response To 'Lemonade'?
When Jay Z and Beyoncé welcomed twins earlier this month, the news pretty much captivated the entire world's attention, and naturally drove the Beyhive into a total frenzy. It didn't even really seem possible for anything to be bigger news for Beyoncé fans, but the release of Jay Z's highly-anticipated new album, 4:44, Friday morning, suddenly made the babies' arrival look like the pre-game show. As soon as the album hit the internet, fans started asking: Is 4:44 a response to Lemonade? Tweets show fans are convinced it is. And it appears the album is his way of coming clean about the rumored infidelity many thought Beyoncé had previously revealed.
After weeks of speculation, the rapper recently confirmed that he would be releasing a new album at the end of the month, in an exclusive joint release between music streaming service Tidal, and Sprint. And judging by the reaction on social media, it didn't take very long at all for fans to begin the process of analyzing each track for hidden — or not so hidden — meaning. While many were still uncertain prior to 4:44's release about whether or not Lemonade really was about Beyoncé's marriage, JAY-Z seemed to clear up any confusion by seemingly addressing the issue head on.
According to The Guardian, Jay Z made a number of references to infidelity on his album, admitting in one track that he "almost went Eric Benét / Let the baddest girl in the world get away," and later asking, "What good is a menage a trois when you have a soulmate / You risked that for Blue?" According to Vulture, Jay Z also appeared to respond directly to many of Beyoncé's most scathing lines in Lemonade, even referencing his wife's much buzzed-about line about "Becky with the good hair." In "Family Feud," Jay Z wrote, "Yeah, I'll f**k up a good thing if you let me / Let me alone Becky!"
Unsurprisingly, Jay Z's openness caught many fans off-guard, and led to many, many tweets reacting to what seems to be his admission of guilt:
While others called out anyone who had previously argued that Lemonade wasn't actually about Jay Z, and that anyone who viewed the album as a comment on his infidelity was reading too much into it:
Many people noted that 4:44 has also really just made Lemonade even more iconic (which may or may not have also been a brilliant business decision on Jay Z's part, depending on how cynical you happen to be about these kinds of things):
And given the link between the two albums, some fans called for a joint tour (which of course would be pretty incredible):
To be sure, even if Jay Z hadn't chosen to respond to Lemonade in the way that he did, there'd still be plenty to discuss on social media about the album, which fans are totally loving. But the fact that he did seems to have brought the reaction to a whole new level. And in the process, it seems to have only made Beyoncé look like even more of a total goddess and queen.
Jay Z and Beyoncé might be experts in keeping their private lives private — we are all still waiting, after all, for the couple to publicly acknowledge their twins' births. But when it comes to sharing honest details in their latest albums, it's clear that neither of them wanted to hold back.