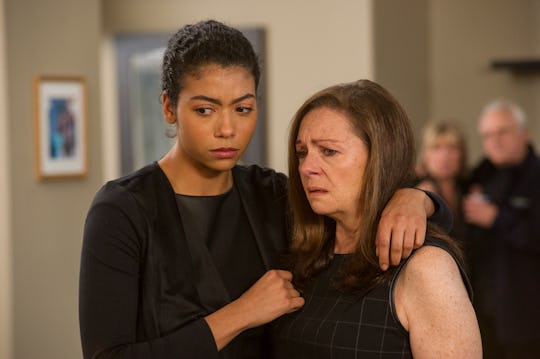 Lifetime
Is This Lifetime Movie Based On A True Story? This Thriller Has It All
There's nothing more satisfying than a story about vengeance, and with Lifetime's new movie, A Daughter's Revenge, that's exactly what you're going to get. Many of the network's movies are filled with suspense, drama, love, and murder, and in many cases, it seems like their storylines are ripped straight from the headlines. With a twisted plot including family, murder and revenge, people are wondering: is A Daughter's Revenge based on a true story?
For the most part, it looks like the basis of the movie is purely fictional, but if you watch enough Dateline, you know that it's completely plausible. Lifetime describes the movie as a story about a girl, Elle Spencer, who blames her stepfather for her mother's suicide. Her friend, Anna, has just been released from prison where she served time for a DUI, and comes out to a life with no friends, family, job, or money. Elle takes the lead as a supportive friend to her, but what Anna doesn't know is that Elle is planning on using her to take revenge on her stepdad.
In a sneak peak of the movie, it looks like Elle is creating major drama for her stepfather. She seems to be setting Anna up to go out with him, but then making it look like a scandal on the other end. There is even a scene in which Elle is seen deviously creating a fake diary entry for Anna, while she whispers, "How obsessed do we want to make you Anna?". Anna all the while seems oblivious to Elle's intentions, and it looks like she's going to get herself stuck in a messy situation.
Elle's stepfather, David, is seen fighting with his wife about the alleged affair with Anna. He vehemently denies that anything is going on, while Elle sneakily listens to the argument from the doorway. In the trailer, there is a scene of a liquid, possibly poison, which is being dropped into a drink, followed by a scene where David is found laying on the bedroom floor motionless. Elle is then seen throwing a photo of David and her mom across the room, with her voice in the background saying, "Tonight, it finally happened. New entry, I hate him, he has to pay for what he's done to me."
If the premise seems like it's based on some torrid and tragic news story, that's probably because the writers, Andrea Canning and Elizabeth Stuart, both share a background in journalism. To bring back that Dateline reference, Andrea Canning is currently a correspondent on Dateline NBC, and Stuart has been a producer for both ABC's Nightline and CNN's A New Day. I'm sure they brought some of their crime coverage experience to their writing, which is why the whole story seems so real.
Along with packing the usual Lifetime thriller punch, A Daughter's Revenge has a pretty diverse cast. Said cast includes Jessica Sipos as Elle Spencer, Sierra Wooldridge as Anne Bellcroft, Linden Ashby as David Spencer, and Claire Rankin as Michelle Spencer. According to the movie's IMDB page, along with writing the script, it looks like Andrea Canning is going to making a small on-screen cameo in the movie as well.
There are so many questions I have after watching the trailer. If her mother committed suicide, who is the lady David is seen fighting with? Why is Anna seen with David in his room? What did David do to Elle that's driven her to frame a friend and possibly commit murder? The teaser definitely has me hooked, so I can't wait to see how the drama unfolds. Get your popcorn ready, because A Daughter's Revenge premieres on Saturday, May 12, at 8 p.m. EST on Lifetime.
If you or someone you know are experiencing suicidal thoughts, call 911, or call the National Suicide Prevention Hotline at 1-800-273-8255.