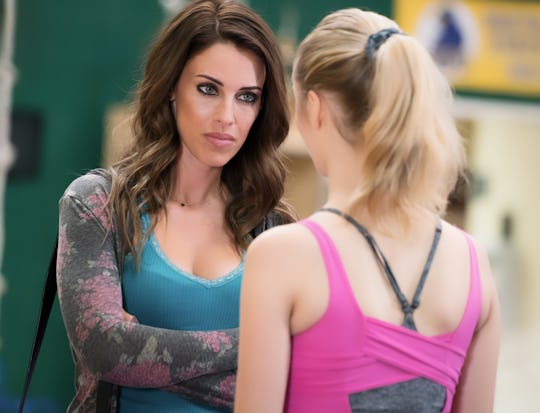 Lifetime
'A Father's Nightmare' Feels Like It's Been Ripped From The Headlines
For its "Summer Escape" series, Lifetime has been lining up brand new movies every Sunday. From manipulation to murder, Lifetime has family thrillers to make the spine tingle, including ones that are inspired by true events. Their newest installment, A Father's Nightmare, involves sinister manipulation and family drama, which could easily have been ripped from a headline. The tale looks chilling, which is why people are wondering, is A Father's Nightmare based on a true story?
While it feels like it could easily be based on real event, the movie seems to be purely fictional. However, the film series' previous installment, A Mother Nightmare, was inspired by a true story. In the first film, Vanessa (Jessica Lowndes) manipulates her high school boyfriend (Grant Gustin) to a deadly point, until his mother steps in to save the day. The movie ends with Vanessa in a psychiatric facility, so it's possible that A Father's Nightmare picks up on where her character is now, but in a purely fictional scenario.
The film follows the recently widowed, Matt (Joel Gretsch), whose young daughter Lisa is heading off to college. When Lisa meets her much older roommate, Vanessa, she seems to fall into her spell, following and doing everything she tells her to. "As Vanessa's manipulation sets Lisa on a downward spiral, Lisa and Matt grow further apart, while her dependence on Vanessa deepens," reads Lifetime's synopsis of the film.
If the trailer for A Father's Nightmare is any indication, the movie looks like it's going to be a thrill to watch. In one scene, Vanessa tells Lisa that she cares about her because she's like the little sister she never had, which cuts to a seemingly worried Matt airing his fears about Vanessa's control over his daughter. In the next creepy scene, Lisa, looking disheveled and frustrated, screams about how she wants to die, but rather than to offer her kind words of hope and support, Vanessa disturbingly tells her that dying might just be a solution. It also looks like Vanessa is pushing some sort of pills onto Lisa, which is very not cool. From the looks of it, Vanessa has Lisa under her spell, which could easily lead to a deadly situation. Dun, dun, dun.
But if you've seen A Mother's Nightmare, you may have already had a taste of Vanessa's cunning tactics. In the movie, she used sweet words to manipulate her already depressed boyfriend into drinking and cutting himself and then falsely accuses him of rape, and somehow convinces him that it happened. It is later found out that she was possibly responsible for the death of two of her previous boyfriends, and that her childhood was spent in foster homes after being abandoned by an abusive father and mentally ill mother. This tumultuous background sheds a little light on why Vanessa is as evil as she is, and it will be interesting to see if A Father's Nightmare reveals anymore of her backstory.
So if you are ready to spend your lazy, summer Sunday in the grips of Vanessa's deadly charms, you can catch the movie this weekend on Lifetime, along with a whole line-up of thrillers the network is playing all summer long. A Father's Nightmare airs on Sunday, July 22 at 8 pm ET on Lifetime. And just as a frame of reference, if you want to see Vanessa's first debut as a villain, you can prep with A Mother's Nightmare, which airs earlier that Sunday on Lifetime, at 2 p.m ET.