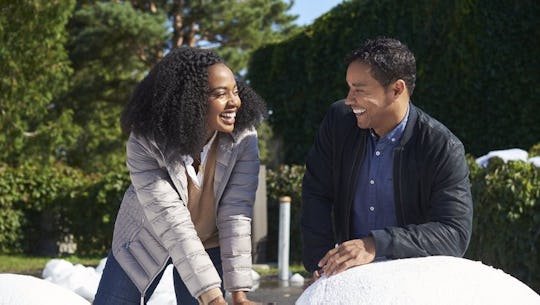 2018 Crown Media United States LLC/Photographer: Daniel Haber
This Hallmark Movie Set Is The Stuff Christmas Dreams Are Made Of
One of the coolest aspects of any holiday movie is the setting. If you're immersed in another world, the scenery of the town — fictional or not — comes alive in your heart and mind. With all of Hallmark's Countdown to Christmas original movies now in play, there's plenty of inspiration and charm within each movie's location. For instance, A Majestic Christmas has the most lovely sounding hometown — Briar Falls. But is A Majestic Christmas based on a real place?
According to a dedicated search, there are similar-sounding places — such as Brier Falls in North Carolina, the Briar Hill hamlet in New York, and Sweet Briar College in Sweet Briar Virginia. None of which, however, are the fictional town of Briar Falls where A Majestic Christmas is set. That doesn't mean it doesn't exist in real life; I just couldn't find it. For sure creators have taken inspiration from other places because the name itself sounds like small-town charm personified. If you can imagine, a briar by definition is "any of a number of prickly scrambling shrubs, especially the sweetbrier and other wild rose." Sounds "majestic," doesn't it?
As for the movie itself, A Majestic Christmas follows Nell (Jerrika Hinton), an ambitious architect who returns to her hometown of Briar Falls to work on a big promotion project (that she totally didn't want). She's to take the historic Majestic Playhouse and transform it into a more modern multiplex even though Briar Falls residents are against it. Why change something so important to the town's legacy? I get it. Nell never wanted this job to prove herself but there she is, thrown into the mix of it and obviously has to prove she can do it — and do it well. Once she meets Conner (Christian Vincent), owner of the theater, they have a major clashing of ideas in how to make the project work. Conner doesn't even celebrate Christmas so it's up to Nell to help him through during the Briar Falls Twelve Day Festival. Sounds super festive. After that, making the Majestic a more modern version doesn't seem so bad.
In case A Majestic Christmas isn't your kind of thing, Hallmark has a ton of original movies right now with towns inspired by the most beautiful of winter wonderlands. Whether it's Mingle All the Way or Hometown Christmas, or even Amy Grant's Tennessee Christmas set against the gorgeous backdrop of, well, Tennessee, the station comes through with places both real and set-made for infusing all that Christmas joy. I mean, if there's snow, sweaters, and mistletoe somewhere, it's real enough, am I right?
It doesn't really matter if A Majestic Christmas isn't set in a real life Briar Falls. There are plenty of other movies with a real setting you can watch. It won't take away from the magic. If anything, it's a great opportunity to watch the Christmas magic of some seriously talented set designers. And honestly, as long as it makes you feel all the Christmas feels, that's good enough.
This first-time mom wants to have a home birth, but is she ready? Watch how a doula supports a military mom who's determined to have a home birth in Episode One of Romper's Doula Diaries, Season Two, below. Visit Bustle Digital Group's YouTube page for the next three episodes, launching every Monday starting November 26.