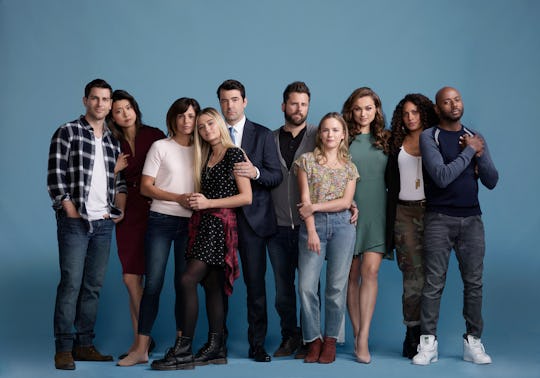 Matthias Clamer/ABC
'A Million Little Things' Has Many Sources Of Inspiration
A Million Little Things is a new series that's prepared to tackle some big topics when it premieres on ABC on Sept. 26. The hour-long drama focuses on a group of friends who are left reeling after losing someone they love. They decide to take stock of their lives in the aftermath and introduce some much-needed changes. The basic synopsis might sound complex enough to be pulled from the pages of a novel, but is A Million Little Things based on a book?
It doesn't seem to be. Created by D.J. Nash, the show appears to be entirely original, though it might feel reminiscent of other projects that share similar themes. When it was initially announced by Deadline, A Million Little Things was described as "being in the tone of The Big Chill," the 1983 movie about a group of college friends who reunite after one of them has died by suicide. That same storyline is central to A Million Little Things, and Nash has cited The Big Chill as a movie that had an impact on him.
"I watched The Big Chill before I should have been allowed to," Nash said during the 2018 Television Critics Association Summer Press Tour, as reported by the LA Times. "It really influenced my life."
But there were also some personal details infused into A Million Little Things. When speaking to Deadline, Nash said:
It's an optimistic look at how the loss of a friend is the impetus for the other seven to finally start living, to make a promise to him and to themselves to finally be honest about what's really going on. I know in my own life, my friend's passing is a constant reminder to keep things in perspective.
At the TCA Summer Press Tour, Nash explained that several writers on the show brought their personal experience with loss into the series. It doesn't seem like the show was directly based on any one person's real life, but it deals with real life issues that have affected the people who work on it.
Nash's past work led to the creation of A Million Little Things as well. During his chat with Deadline, he explained that working on the half-hour series Losing It encouraged him to mix drama and comedy more than he had previously, and he continued to do that with A Million Little Things. "Sometimes in comedy, you have to apologize for adding drama," he said. "Which is why I was so thrilled to see ABC's passion for a drama that has comedy."
As for the show's title, that was taken from the saying, "Friendship isn't a big thing — it's a million little things." It's unclear where the adage originated from (aside from a million little Pinterest posts), but it may have guided the direction of the show as well. It has a large ensemble cast of characters who are looking to reassess their lives and relationships with each other, which reflects the message of the title. It's all about keeping track of those small, intimate moments so you're prepared for the big ones.