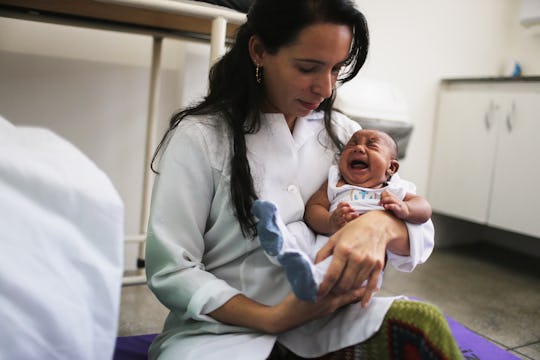 Mario Tama/Getty Images News/Getty Images
Is A Zika Virus Possible? Scientists Are Already Making Progress
The Zika virus has been in the news for quite some time now, causing worry in the United States as the hot and humid summer months, which typically bring mosquitoes, begin to roll around. Pregnant women and women hoping to become pregnant have especially been on the lookout for potential consequences. As the risk of contracting the virus continues to rise, it makes plenty of sense that many have begun to ask if a Zika vaccine is at all possible. Now, it seems scientists are making progress: In exciting news this week, researchers announced they had, for the first time, cloned the Zika virus. That means a vaccine could be next in line.
Scientists from the University of Texas Medical Branch at Galveston were able to genetically engineer the Zika virus, making it possible for researchers to clone the virus in a laboratory, according to a study published on Monday.
As a result, lead author Pei-Yong Shi said scientists can now study and adapt the virus to develop a vaccine, and researchers hope that testing on animals and clinical trials could be in the works as early as next year. But, according to the BBC, it could take many years before there is a safe and effective way for it to be given to the general public.
"What we've created is something that is reproducible, meaning that batches of this virus can be made in large quantities," Shi said in an interview with CNN. "But of course this will depend on whether we see serious side effects. We don't even know yet what the full impact of Zika is, besides microcephaly and some other neurological diseases."
This is a big step in tackling the Zika virus. The virus has rapidly spread through Central and South America in recent months, leading health officials to call the outbreak an international emergency. It's been linked to an increase in serious birth defects associated to microcephaly, which can result in serious birth defects in newborns, such as abnormally small heads and underdeveloped brains.
Teams of researchers have been working towards a vaccine since the Zika outbreak, but not until now have they been able to replicate this strain of the virus. The published findings now provide scientists with more tools and information to work towards a vaccine.
Those who have been been working towards a vaccine for the virus say the new findings can provide more tools for developing a vaccine.
"The Zika virus took all of us by surprise, and one of the difficulties in developing preventative measures has been the lack of tools available to test the vaccine," associate professor at Oxford University Arturo Reyes, who is also working towards a Zika vaccine, told CNN. "So a development like this will help for sure."
The virus has certainly caused panic across the Americas. Health officials have said Zika is making its way into the United States this summer, so news of a possible vaccine in the near future is a comforting and hopeful note about an already scary situation.