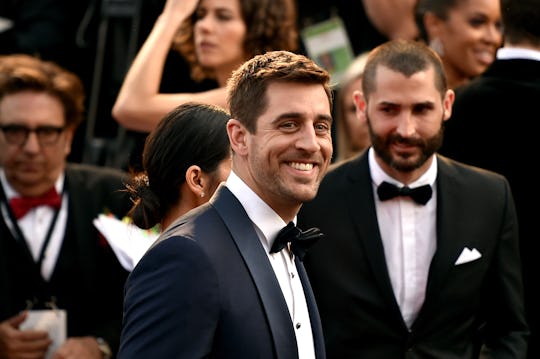 Mike Windle/Getty Images Entertainment/Getty Images
Is Aaron Rodgers Watching 'The Bachelorette'? He'll Likely Support Brother Jordan
The latest season of The Bachelorette is nearly upon us, which means more in-fighting, back-biting, and all around prime time drama galore. Out of the current pack of bachelors fighting for JoJo Fletcher's heart, however, is one curiously familiar face and name. Jordan, 27, hails from Chico, California and was once a pro quarterback in the NFL, playing first for the Jacksonville Jaguars, then the Tampa Bay Buccaneers and the Miami Dolphins. But it's his older brother Aaron Rodgers who's become a household name in recent years, due to a wildly successful career in the NFL (as well as his terribly amazing "Aaron Rodgers Photobombing" meme). So will Aaron Rodgers be watching Jordan on The Bachelorette, duking it out with the other 25 contestants, or will he be skipping out to relax at his sunny off-season abode in San Diego?
Certainly, no one would blame Aaron for wanting to pass (pardon the pun) on tuning into the ABC reality hit, but it seems like the seasoned NFL quarterback is keeping quiet about his younger brother's appearance, declining to confirm or deny whether he'll be watching Season 12 with everyone else. Neither Aaron nor Jordan's social media accounts show any sign that the two spend time together on a regular basis, and neither seem to even mention the other's existence. But that doesn't mean there's no love or brotherly support between them.
In a February interview with the New England Sports Network, Jordan defended his brother's 2015 season (although the Green Bay Packers went 10-6 in the regular season, they suffered an early season losing streak and were eventually defeated by the Arizona Cardinals in Week 16 of the post-season playoffs), as well as Aaron's relationship with actress Olivia Munn, which has become a sore spot for plenty of diehard Packers fans.
"She's been great," Jordan said. "Obviously, there's been a lot of stuff about, 'Oh, he's playing bad. It's because he has a girlfriend now.' He's playing good it's because of his girlfriend. He's playing bad it's because of his girlfriend." He added,
Fans are going to do that. [Football is] a tough game. You have good seasons. You have bad seasons. They were injury-riddled this year. I think he made the best of what he could.
Clearly there's no bad blood between the two — quite the opposite, from what it seems. Given that Jordan is more than happy to defend his brother's love life, it wouldn't be surprising if Aaron did the same and kept track of Jordan's escapades on a week to week basis.
Although, to be fair, not everyone loves reality television — and it's probably safe to say that Aaron will be skipping the "Fantasy Suite" episode, should Jordan make it that far. (Awkward.)